Boston Public Schools (BPS) Arts Expansion is a multi-year collaborative effort to expand quality arts education within Boston Public Schools by providing equitable access to arts learning experiences for all students. BPS Arts Expansion is focused on a coherent, sustainable approach to quality arts education for all Boston Public School students. This public-private partnership involves a large and coordinated network of partners, including schools, arts organizations, local and national foundations, colleges and universities, and the Mayor's office, among others. This collaboration of local leaders along with students, families, and school staff, led by the BPS Visual and Performing Arts Department and EdVestors, believes in the power of art to develop creative, engaged learners.
Launched in 2009, BPS Arts Expansion is a multi-year effort focused on increasing access, equity, and quality of arts learning for all BPS students. The initiative's three-part strategy is to:
Expand direct arts instruction for students during the school day;
Build the capacity of the District to strengthen school-based arts instruction across all schools;
Improve coordination of partnerships with arts and cultural groups and higher education institutions to support high quality arts programming in the schools; and
Ensure long-term sustainability and ownership.
With the support of our core funders, we are delighted to announce and embark on Phase 5 of BPS Arts Expansion, with the continued goal of increasing equitable access to quality arts education for Boston's public school students
The Arts Advantage: Impacts of Arts Education on Boston Students
Released in May, 2021, this research study examines the examines the impacts of arts education access in Boston Public Schools students.  The report brief can be found here.
The study encompasses an analysis of eleven years of arts education data and district data regarding student engagement, school climate, and traditional academic outcomes to examine arts educational impacts for students, and includes over 1,500 variables and 615,000 student-level observations. The full report can be found here.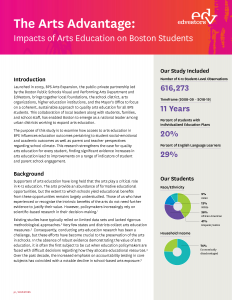 Dancing to the Top: How Collective Action Revitalized Arts Education in Boston
Released in May, 2016, this case study examines the multi-year, collaborative process that has made Boston a national leader in arts education. The complete report can be found here.
Additionally, Dancing to the Top includes a number of resources designed to help others undertake similar work. The key strategies and actions used to advance the collective effort around arts education in Boston and documented in this case study can be replicated and/or adapted to other contexts and issue areas in Boston, as well as in other cities across the country.
Grant Seekers
A critical element of BPS Arts Expansion is the grantmaking Fund. The BPS Arts Expansion Fund is used to empower BPS schools to embrace, expand and deepen arts instruction in schools. For the upcoming cycle, the Fund's goal will be to maximize student engagement in the arts connected with school, whether in-person or remote.
For more reference material on the BPS Arts Expansion Grant Application, please click here to view RFP.
School arts data is available below:
If you have any questions, please email artsfund@edvestors.org.