Announcements
/

EdVestors Awards $100,000 School on the Move Prize to the Harvard-Kent Elementary School in Charlestown
EdVestors Awards $100,000 School on the Move Prize to the Harvard-Kent Elementary School in Charlestown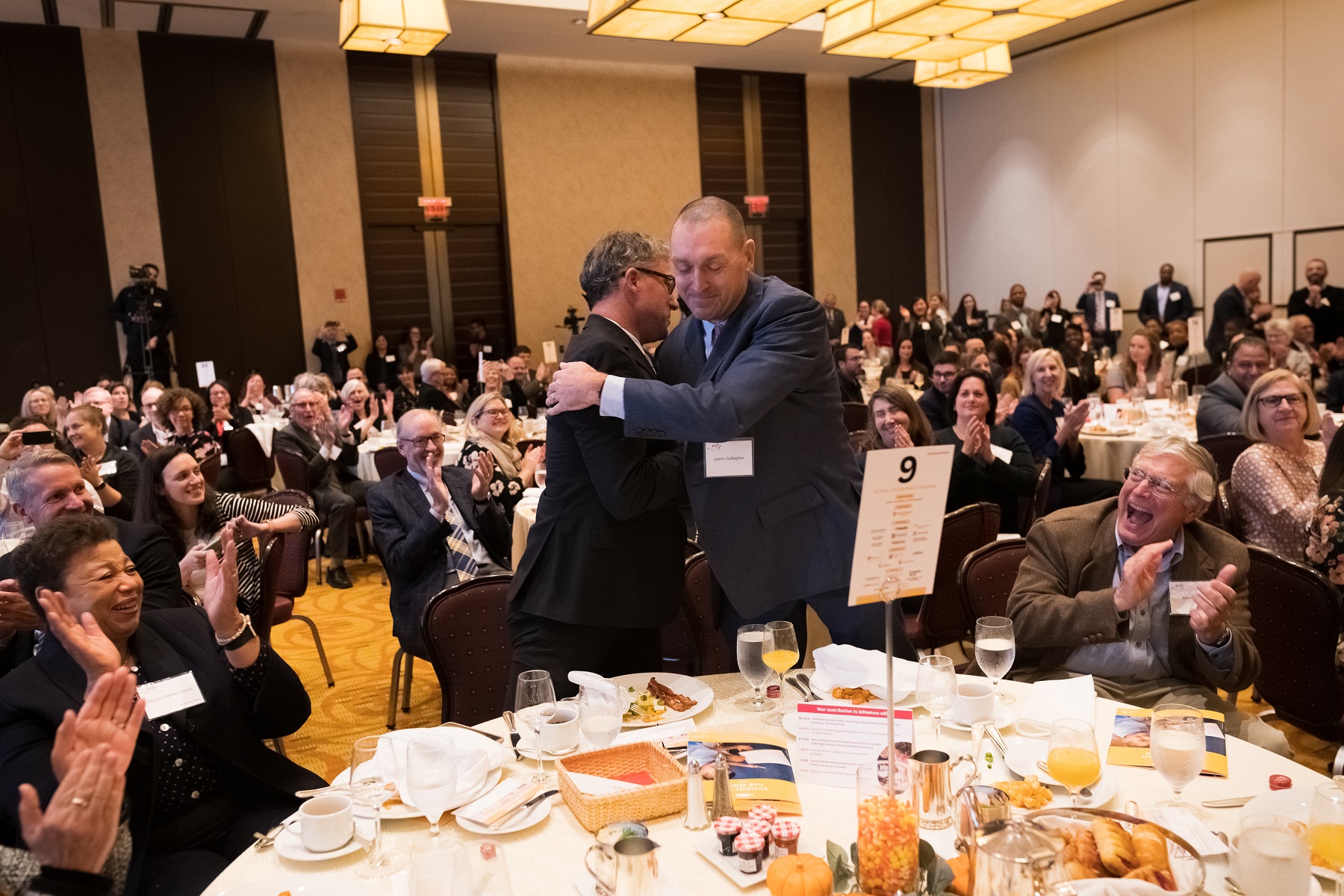 School that serves the largest number of students in public housing wins high praise for academic growth and cultivating a culture that is equal parts supportive and rigorous
(BOSTON) October 31, 2019 – EdVestors, a school improvement organization in Boston, awarded its $100,000 Thomas W. Payzant School on the Move Prize to the Harvard-Kent Elementary School in Charlestown, a school that serves the largest population of students in public housing in the entire Boston Public School district. The Prize, now in its 14th year, recognizes rapidly-improving schools that have made exemplary progress in advancing the academic achievement of all students.
Boston Mayor Martin J. Walsh and BPS Superintendent Dr. Brenda Cassellius announced the winner at a ceremony at the InterContinental Boston this morning. Massachusetts Department of Elementary and Secondary Education Commissioner Jeffrey C. Riley also attended the Prize Ceremony, along with key business, civic, and education leaders. Fellow finalist schools, the Manassah E. Bradley Elementary School in East Boston and the Thomas J. Kenny Elementary School in Dorchester, each received a $10,000 prize.
"Exceptional schools like the Harvard-Kent are the soul of our city and I applaud the teachers and staff for their commitment to educating and empowering Boston's young people," said Boston Mayor Martin J. Walsh. "I congratulate all three School on the Move Prize finalists for setting the example that by working together, we can boost outcomes for students and ensure they receive a high-quality and enriching education."
The 400-student Harvard-Kent Elementary has seen steady improvement over the past few years in both literacy and math while also narrowing achievement gaps.It was also recognized for exceeding performance targets set by the state, one of 14 BPS schools to do so in 2019, and one of four BPS schools to do so for two years in a row. The Harvard-Kent credits its improvement to a commitment to maintaining a culture that is both safe and welcoming for students while also being academically challenging, and a structure that supports the unique needs and learning styles of all learners.
"All three of this year's finalist schools are a testament to what is possible when educators focus on the key practices that drive improving schools," said Marinell Rousmaniere, President and CEO of EdVestors. "We commend each of the School on the Move finalists for focusing on deep relationships with and rigorous academics for students to prepare them for promising futures, and for giving other schools a roadmap for continued improvement."
Jason Gallagher, the principal of Harvard-Kent, said his school focuses first on creating a positive environment for their young learners.
"The most important thing we do every day is offer a safe and welcoming school to our students and families," explained Gallagher. "We want to make our kids feel like they are in the best school not just in Boston, but in the country. If you are a member of the Harvard-Kent school community, we want you to feel important, loved and valued. And, we want you to become a proficient reader, writer and mathematician."
The Harvard-Kent's student population is uniquely diverse within Boston Public Schools. The school community is racially diverse, with nearly equal numbers of Latino, Asian, Black and Caucasian young people represented in the student body. Over half of the student body are English Learners, a quarter are students with disabilities, and more than two-thirds are economically disadvantaged.
In addition to embracing this diversity and creating an inclusive atmosphere for all students, the school teams up with community partners aligned with school priorities to deepen student engagement and learning as well as connection with the surrounding neighborhood. Once the school day is over, after-school math and early literacy programming helps meet children's  individual learning needs, another priority of Gallagher, who notes that, "oftentimes we talk about meeting the needs of groups of students, at the Harvard-Kent we really try to individualize it."
Further, a "School Climate Team" comprised of teachers, staff, families and the school psychologist supports and maintains their welcoming and caring school community. All of the Harvard-Kent's efforts have paid dividends, with their children's ELA test scores rising steadily before eventually passing the district averages.
"The entire BPS community is proud of the Harvard-Kent for this well-deserved recognition," said Dr. Brenda Cassellius, Superintendent of Boston Public Schools. "All three of the finalist schools work hard every day to create positive learning environments that include in- and out-of-school supports for students and families, along with the belief that every student can achieve success."
The Thomas W. Payzant School on the Move Prize is made possible by generous support of lead sponsors the James M and Cathleen D. Stone Foundation and Liberty Mutual Insurance, along with corporate sponsors including  Berkshire Bank, BerryDunn, Boston Private, Eaton Vance, Fidelity Investments, Fiduciary Trust, Goldman Sachs, Houghton Mifflin Harcourt, Insource Services, jetBlue, LEGO Education, Liberty Mutual Insurance, Microsoft, Nellie Mae Education Foundation, Plymouth Rock Assurance, Rockland Trust Bank, and State Street among other generous organizations, foundations and individuals.
ABOUT EDVESTORS
EdVestors' mission is to increase the number of schools in Boston delivering dramatically improved educational outcomes for all students. EdVestors is a school improvement organization that combines strategic philanthropy, education expertise, and implementation support to help schools create the conditions for school change. EdVestors seeds promising ideas through the School Solutions Seed Fund, shines a spotlight on school improvement through the School on the Move Prize, and scales efforts to close opportunity and achievement gaps through three strategic initiatives: Boston Public Schools Arts Expansion, Zeroing in on Math and our newest effort to expand Career Pathways. Learn more at www.edvestors.org.
#schoolonmove           @edvestors                 http://www.edvestors.org
Media contact:
Travis Small
617-538-9041