Announcements
/

Boston Public Schools & EdVestors Announce $1.65 Million Anonymous Grant to Expand Music Education
Boston Public Schools & EdVestors Announce $1.65 Million Anonymous Grant to Expand Music Education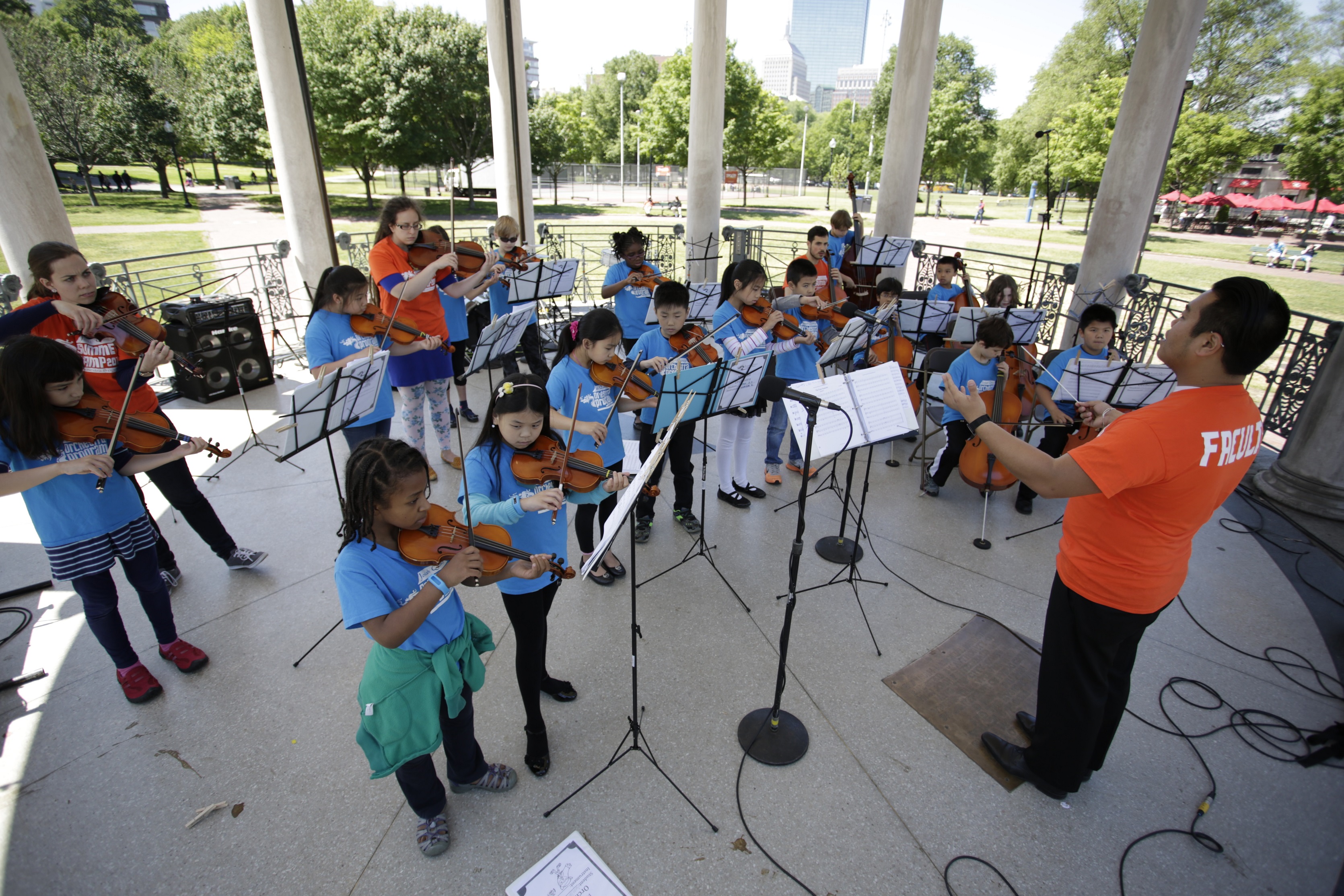 BOSTON, MA - NOVEMBER 28 -  Boston Public Schools and EdVestors today announced a three-year, $1.65 million grant from an anonymous donor to expand sequential music education, focused on schools in East Boston. The announcement was made this morning at the Curtis Guild School in East Boston.
"The arts is a critical part of education," said Superintendent Mary Skipper. "This work takes a village and it warms my heart when members of our community are willing to give back in such a generous way to contribute to the success of Boston Public Schools. When partners invest resources and go beyond words, it provides us with much needed tangible support and complements what we're doing with our students and takes the impact of our efforts to the next level."
This financial investment will support expanded music residencies led by arts partners and in collaboration with BPS music educators; providing no-cost private music lessons to BPS students; purchasing musical instruments and equipment; providing additional band performance opportunities at festivals; and supporting guest artist residencies and workshops for East Boston schools. 
"We are so grateful to this anonymous donor, who believes - like all of us - in the power of the arts to develop creative, engaged learners," said Marinell Rousmaniere, President and CEO of EdVestors. "Over the last dozen years, Boston has become a national leader in expanding quality arts education to BPS students through increased public and private investment and sustained partnerships. This gift and the resulting work will allow us to go deeper and for students to have a richer music education."
Through the BPS Arts Expansion initiative, EdVestors and BPS have been partners in expanding arts education since 2009, bringing together local foundations,the school district,  arts organizations, higher education institutions and city government to create a coherent, sustainable approach to quality arts education for all BPS students. As a result, nearly 17,000 additional students annually now receive arts education compared with 2009, and the number of BPS arts teachers has nearly doubled. This significant investment will enable BPS Arts Expansion to further deepen and expand arts opportunities for students, especially in music education.
"The continued generosity of EdVestors will enhance musical education in East Boston and strengthen Boston Public Schools' efforts to help students realize their full potential," said Boston School Committee Chairperson Jeri Robinson. "Community support like this is a crucial aspect of our ability to offer students the best learning experience possible."
After an internal review identified a gap in music education, specifically instrumental music instruction, in East Boston schools, BPS made additional targeted investments with the goal of ensuring that every BPS student has access to music instruction that continues through high school. This new multi-year investment will allow this work to scale and go deeper in East Boston and serve as a model for what can be accomplished in other neighborhoods to expand access in specific arts disciplines and provide sequential arts learning opportunities to all students. 
This investment in East Boston will change the lives of my students," said Curtis Guild Elementary School Principal Karen McCarthy. "Art helps students grow and flourish and express themselves in new and profound ways. I am incredibly grateful for this donation and I cannot wait to see the impact it will have on the children."
The event was attended by school and community leaders, including Guild School Leader Karen McCarthy and BPS Executive Director for the Arts Anthony Beatrice.