Research & Insights
/

Full Inclusion Takes on New Meaning at the Bates Elementary School Open Draft Settings
Full Inclusion Takes on New Meaning at the Bates Elementary School Open Draft Settings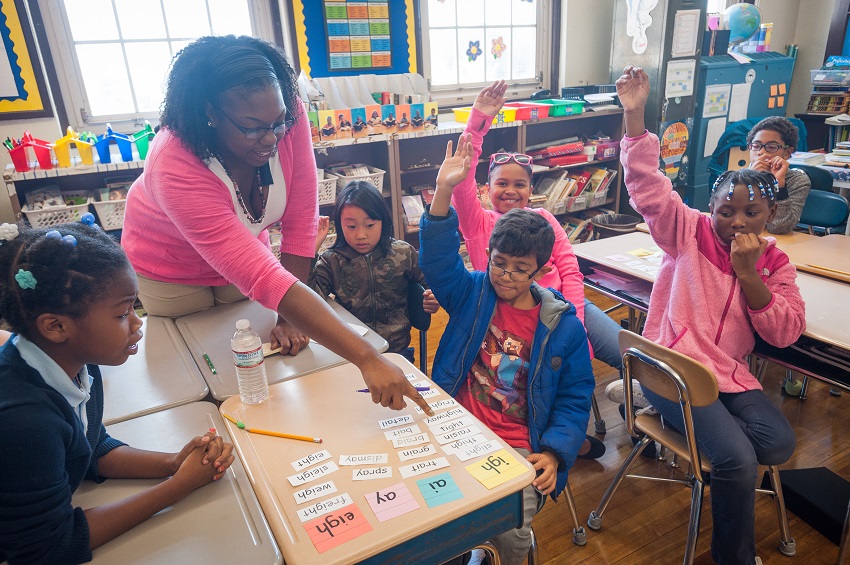 The Bates Elementary School is the winner of EdVestors' 2016 School on the Move Prize.
When the Bates first became a full-inclusion school in 2014, the leaders and teachers started with the typical definition of educating students with significant disabilities alongside their typically developing peers, growing the program one grade level each year. And then something interesting happened along the way. The leaders and teachers at the Bates started to internalize inclusion, not just as a beneficial approach to instruction for students, but as a value that could guide the school's vision and a standard against which to measure all their decisions and actions. The expression of this value can be seen in changes for teachers, students, and families.
Inclusion for all teachers
A culture of shared leadership permeates the Bates. Teachers at the Bates have a high degree of input and influence on instructional decisions and autonomy for how to implement instruction in their classrooms.  The principal and teachers collaboratively set the vision for the school but then it's up to the teachers to decide how best to make it happen in their classrooms. Teachers see themselves as leaders and learners as they work collaboratively in grade level teams weekly to share best practices, engage in academic discourse, and make instructional decisions. And perhaps most telling, all teachers by choice serve on the Instructional Leadership Team that meets twice a month as a way to include the voices of all teachers in meaningful discussions and important decisions that guide the teaching and learning at the school. This strong teacher ownership and focus on instruction have led to steady, continuous improvement in student achievement.
Inclusion for all students
The Bates is growing the full inclusion of students with significant special needs one grade at a time, now reaching the 2nd graders in the school. Teachers talk about the benefits to students with special needs to be with their typically developing peers, and also the benefits for all children to accept and accommodate differences. Through a new social emotional approach, Social Thinking®, the Bates encourages students to have empathy for all and to learn to see things from another's perspective. Students know how to "follow the group plan" and not be thrown off course when something "unexpected" happens. Adults also learn to think differently about how to approach a student who may be struggling. This new approach creates a safe and supportive environment for all students, and, as a result, suspensions have been cut in half and office referrals are down significantly.
Full inclusion took on new meaning when the Bates staff took a hard look at the Advanced Work Classrooms (AWC) in 4th and 5th grade. Based on a single test in the fall of 3rd grade, students were being sorted into two tracks. One group of students was getting more rigorous instruction along with opportunities to learn a new language and master organization and study skills. The students in the classroom next door did not have these same opportunities. This struck the Bates principal and teachers as inequitable and certainly not in keeping with their full inclusion mindset.
So, this year, in conjunction with the district's Excellence for All effort, the Bates has done away with its AWC classroom, educating all students with the same curriculum and opportunities in classrooms across the entire 4th grade. Now all students study Spanish twice a week, rigorously discuss human rights in social studies, and participate in classes that demand a higher level of rigor and engagement.  As one student mentioned on a school visit, "I always wondered what they did in the classroom across the hall, and \[now\] I get to do that too!" The vibrancy of instruction across the classrooms is palpable.
Inclusion for all families
One additional challenge was how to take this value of inclusion and extend it to all families in the school community. Our research shows that the involvement of families in setting the school vision and making decisions is key to sustaining school improvement over the long haul. The Bates is a microcosm of Boston—representing the diversity of families by race and socio-economic status. Still, as in many schools, this diversity was not represented on the School Site Council, the school's decision-making body that includes families and teachers. So, Principal Andrew Vega set out to change that. He personally set a goal and reached out to parents and families until now about half of those who serve on the School Site Council represent families of color, bringing more diversity of opinions and perspectives to important conversations at the school.
A model of equity and inclusion
The Bates Elementary School sets the bar high for delivering a high quality education to all students. They join a long line of School on the Move winning schools that demonstrate that significant improvement is possible when the adults in a school share the belief that all students can learn at a high level and accept the responsibility for the success of each and every student. The Bates' model of equity and inclusion is one that we can all embrace.
Janet Anderson is the Executive Vice President at EdVestors and oversees the School on the Move best practice research. Learn more about School on the Move here.
Photos by Michael Manning