Research & Insights
/

Communication and Connection with Families Builds Strong School Communities
Communication and Connection with Families Builds Strong School Communities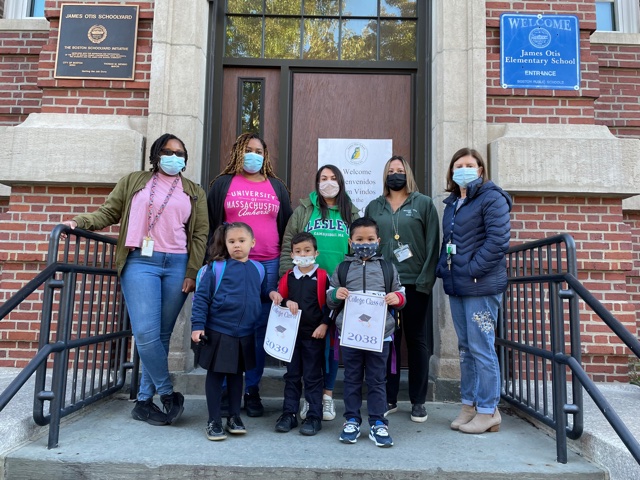 The pandemic has repeatedly highlighted the importance of strong communication and connection between schools and families. Over the past two years, we've observed time and time again the positive impact that a strong foundation of engagement, communication, and resource sharing with families can have on school culture and community.
Each fall, Edvestors' School on the Move Prize recognizes the most improving Boston Public schools, highlighting those schools, leaders, and educators who create and continuously improve learning environments. The strategies that many of the 2021 eligible schools used to engage their families throughout the pandemic can be held up as models for other schools looking to deepen their family engagement practices, communications, and community partnerships. As one parent from the $100,000 prize winning James Otis Elementary School noted, "There are always new ways to innovate on academics, curricula, improved test scores, teacher evaluations, etc. But I'd wager that a supportive family-like environment like you find at the Otis –  that truly welcomes and accommodates students and families of all backgrounds – is absolutely critical to, and underpins the success of, any other specific efforts to innovate and improve school outcomes."
Holistic Family Support
A theme across the 2021 eligible schools is their commitment to consistent, tiered support to promote family wellness. When students' homes became their physical learning environments, school leaders worked to ensure their students and families had access to needed resources, implementing a host of comprehensive and holistic supports. While systems varied across schools, those with high engagement monitor communication with families and service delivery through structured approaches. 
For example, Student Support Teams — groups of educators, administrators and other staff who meet regularly to identify students requiring additional academic or social-emotional support as well as resources — help to determine individualized support to offer students and families. Over the last two years this has included services like rental payment assistance, grocery delivery, online social groups for students, and appointments for one-to-one counseling sessions. In addition, many schools have created shared social and community spaces, virtual and in person, to process challenges and find joy. 
Communication and Connection 
The Patrick J. Kennedy and Manassah E. Bradley elementary schools created a series of technology support videos and tutorials in both English and Spanish. Potential language barriers were eased with the district-wide adoption of Talking Points, a two-way communication application that automatically translates text to each family's preferred language, allowing for real-time communication with all families. 
Patrick J. Kennedy and Otis Elementary school teams' use of Academic Parent Teacher Teams (APTT) has been a critical lever for family engagement over the past several years. In APTTs,  data-focused partnerships between teachers and parents help to strengthen student learning. Parents receive periodic reports on their children's performance toward specific benchmarks in reading, writing, and math. The data provides valuable insight on areas of strength and growth and families gain access to suggested enrichment activities to do at home. Parents are eager to participate and this school year, APPTs are activated schoolwide at both the P.J. Kennedy and Otis. 
The tremendous collaboration between schools and families seen over the last two years, has led to deeper connections and stronger school communities. We are engaging in a research partnership with the James Otis Elementary School as part of their School on the Move prize to more deeply understand and document the engagement practices that have supported their success. We hope that sharing and spreading these promising lessons will spur improvement at more schools. We look forward to sharing more in the months ahead.