Announcements
/

STEM Career Pathways for Professionals of Color
STEM Career Pathways for Professionals of Color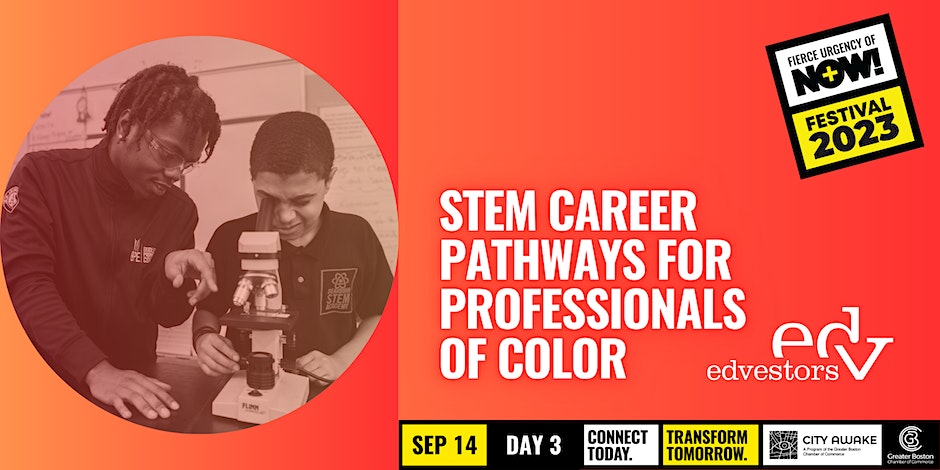 Join EdVestors for a panel conversation with STEM leaders of color as they share their career journey, successes, and challenges on September 14, 9:00-10:30 AM at High Street Place!
Panelists:
Aisha Francis, PhD, President and CEO of Benjamin Franklin Cummings Institute of Technology
Shuley Nakamura, Senior Sales Manager, Analog Devices
Attendees will have the opportunity to network through small group discussions on topics of interest. This work models lessons learned from New Skills Boston, a cross-sector effort to build seamless, labor market-aligned career pathways for Boston Public School students. This includes the power of work-based learning experiences, transformative mentoring, and building social capital.
The Fierce Urgency of Now Festival brings together more than 1,000 diverse, young professionals of color and allies for 30+ transformative events. Organized by City Awake, the Greater Boston Chamber of Commerce's young professional platform, this is the ultimate festival to build connections, advance careers, and ignite positive change.
This festival is inspired by Dr. Martin Luther King Jr.'s. speech at the March on Washington for Jobs and Freedom where he described "the fierce urgency of now" — the pressing need for immediate action and lasting change in the face of racial injustice. Today and every day, we are answering this call to action to forge a more equitable, inclusive future for Greater Boston.