Announcements
/

Jeremiah E. Burke High School Named the 2015 School on the Move Prize Winner
Jeremiah E. Burke High School Named the 2015 School on the Move Prize Winner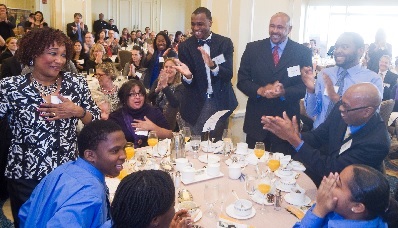 Congratulations to the Jeremiah E. Burke High School, which was announced as the winner of the 2015 School on the Move Prize at EdVestors' 10th annual breakfast in celebration of improving schools on October 27. In recognition of its improvement, the Burke receives a $100,000 prize, public recognition, and the chance to share its improvement strategies and best practices with others.
As columnist Shirley Leung wrote in the Boston Globe, "It was a remarkable win for a school that four years ago was designated one of the worst in Massachusetts and only last year became the first high school in the state to shed its 'underperforming' label." (Read the full story)
The 500-student Jeremiah E. Burke High School has experienced dramatic improvement over the past four years. The Burke credits its improvement to providing ample time for teachers to work collaboratively in teams, strategically leveraging partnerships, and creating a school culture that supports students' social and emotional needs to reduce barriers to learning. With improvements well above district averages, student proficiency in math and English Language Arts more than doubled over the four-year review period.
Congratulations to the two finalist schools, which have also achieved dramatic improvement for students over the past four years:
John F. Kennedy STEM Innovation School Joseph J. Hurley K-8 School
The Hurley School also received a special Sustainability Award in honor of the 10th anniversary.
"What makes these schools such impressive examples of school improvement is the whole-student approach they have taken," Dr. Tommy Chang, BPS Superintendent, said of all three School on the Move Prize finalists. "They are fostering deep student-teacher engagement, developing a thorough understanding of students' and teachers' needs, and creating strong leadership that embraces collaboration and continued learning for educators."
In addition to Dr. Chang, nearly 300 guests, including Mayor Marty Walsh and event emcee Callie Crossley of Under the Radar with Callie Crossley, gathered for the celebration at Boston Harbor Hotel. EdVestors raised nearly $300,000 from corporations, foundations, and individuals. In an overwhelming show of support for urban schools from guests, we raised an additional $23,000 at the breakfast!
Thank you to everyone who joined us for this special event and to those who were there in spirit. We are humbled by the recognition of the important and hard work of improving schools that EdVestors has focused on since 2002, and our new work recently launched in math. We look forward to another 10 years of improving Boston schools together.
In the News
The Boston Globe, Personal attention, strong leaders can revive schools
EdTech Times, Celebrating Innovation in Boston Public Schools with the 10th Anniversary of School on the Move
Microsoft New England, Recap: 10th Annual EdVestors Thomas W. Payzant School on the Move Prize Ceremony