Announcements
/

Education Deep Dive: A Virtual Conversation on How School Districts Can Succeed
Education Deep Dive: A Virtual Conversation on How School Districts Can Succeed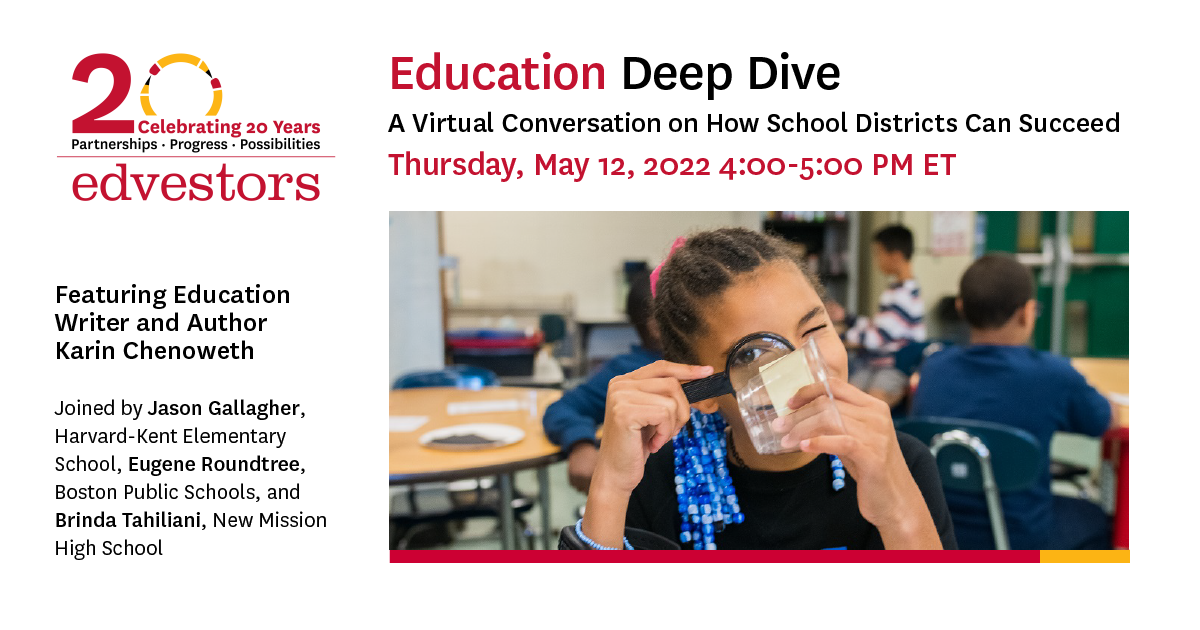 Boston Public Schools is in the midst of many changes: a superintendent transition, new Mayoral leadership, and the prospect of a changing school governance structure. As we mark our 20th anniversary, we plan to engage in conversations about possibilities for the future of Boston schools. EdVestors is hosting a virtual conversation on Thursday, May 12, 4:00-5:00 PM featuring Karin Chenoweth, writer-in-residence at the Education Trust and author of "Districts That Succeed: Breaking the Correlation Between Race, Poverty, and Achievement". 
Joining her are Jason Gallagher, Harvard-Kent Elementary School Principal, Eugene Roundtree, Boston Public Schools Secondary School Superintendent, and Brinda Tahiliani, New Mission High School Chief Academic Officer & 10th Grade History Teacher, to share their experiences with school improvement.
Watch the recording here.
Speaker Biographies
Karin Chenoweth, Education Writer and Author
Karin Chenoweth is a long-time reporter who became an education writer when her two children began public school. Since 2004, she has worked at The Education Trust, a national education advocacy organization based in Washington, D.C. During that time, she has authored two books and co-authored a third about high-performing and rapidly improving high-poverty and high-minority schools. She now writes regularly about schools and education for Huffington Post. In October, 2013, she received the Millman Award for her contributions to education research.
Jason Gallagher, Principal, Harvard-Kent Elementary School
Jason Gallagher has been the Principal of the Harvard-Kent K-6 school in Charlestown for 11 years. During that time, the school has made tremendous academic growth, including meeting or exceeding MCAS targets and was selected as the 2019 EdVestors School on the Move. Prior to his position at the Harvard-Kent, Jason worked as an Assistant Director in the BPS Office of Special Education and as an Elementary school teacher. A graduate of the Boston Public Schools and a lifelong resident of Charlestown, he is also the parent of 2 children who graduated from the Boston Public Schools.
Eugene Roundtree, Secondary School Superintendent, Boston Public Schools
Eugene Roundtree is one of the Secondary School Superintendents in Boston Public Schools. Mr. Roundtree was Head of School at Muriel S. Snowden International School at Copley for six years. He received his training as a Principal Fellow at the Eliot K-8 Innovation School in the North End as part of the Lynch Leadership Academy at Boston College. Mr. Roundtree began his career with the Boston Public Schools as a paraprofessional at McKinley Middle School in 2003. He began teaching Biology at Madison Park Technical Vocational High School in 2004. Mr. Roundtree earned his Bachelor's Degree from Boston University. He has an M.Ed in Education Policy and Management from the Harvard Graduate School of Education on a James Bryant Conant Fellowship.
Brinda Tahiliani, M.B.A, M.Ed, Chief Academic Officer & 10th Grade History Teacher, New Mission High School
Brinda Tahiliani is currently the Chief Academic Officer and Instructional Coach at New Mission High School, a pilot school within the Boston Public Schools. Prior to this role, she was a US History Teacher for 13 years at New Mission. Recently, she completed a Fulbright Distinguished Award in teaching in 2019 in India. In 2018, Ms. Tahiliani was the Massachusetts History Teacher of the Year, an award presented annually by the Gilder Lehrman Institute of American History, the nation's leading organization dedicated to K-12 American history education. Brinda Tahiliani received a B.A. from Bates College, M.B.A from Brandeis University and an M.Ed from UMass Boston.