Announcements
/

2016 Showcase: Spotlight on Schools
2016 Showcase: Spotlight on Schools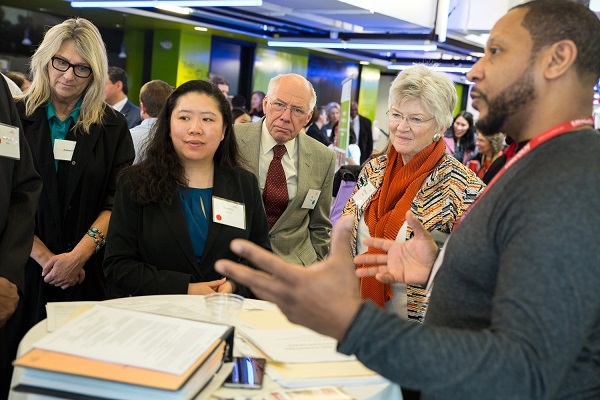 At EdVestors' Showcase at District Hall this week, nearly 200 educators, community leaders and philanthropists took the opportunity to meet the "Solution Seekers" as part of the School Solutions Seed Fund. They heard presentations by front-line educators from this year's Seed Fund and listened to remarks from Boston Public Schools' Superintendent Tommy Chang and the Mayor's Chief of Education Rahn Dorsey. Relive the excitement through a story of tweets and photos here.
We also extend our congratulations to this year's recipient of the $50,000 Philip H. Gordon Legacy Award: Action for Boston Community Development (ABCD) at Dorchester Academy for their work around restorative practices. Together they are working to find alternatives to suspending students and building conflict resolution skills--a critical need as seen in the Boston Globe this morning. The annual Gordon Legacy Award honors EdVestors' late co-founder and recognizes an important school improvement effort that will help level the playing field for students in Boston.
Thank you to everyone who has supported our schools, teachers and students through the Seed Fund and 14th annual Showcase event. Your support allows us to foster and accelerate school improvement for the benefit of all students in this city. 
In the News
What do a superintendent, an investor, and a 13-year-old all have in common? They were all present at the Edvestors 2016 showcase in Boston on Monday, an event that brought together the who's who of Boston education with those working at the front lines of Boston Public Schools every day. The event took place in the Seaport district of Boston, bringing together teachers, students, philanthropists, and government officials to shed light on different ways public schools could be—and are—improving their methods throughout the city.
The Bates Elementary and Haley K-8 schools' social emotional learning initiative, along with seven other schools-based projects received seed funding of $10,000 each from EdVestors last year. These schools, known as the School Solutions Seed Fund cohort, shared their pilot results at the Urban Showcase, presenting what they have learned so far and the potential their work has to transform urban education.
Dorchester Academy's Restorative Justice initiative won a $50,000 prize from the non-profit EdVestors at the initiative's Urban Education Showcase on Monday in Boston. Dorchester Academy, along with eight other school-based projects, received seed funding of $10,000 each from EdVestors last year.