Announcements
/

Charles Sumner Elementary School is finalist for prestigious EdVestors prize
Charles Sumner Elementary School is finalist for prestigious EdVestors prize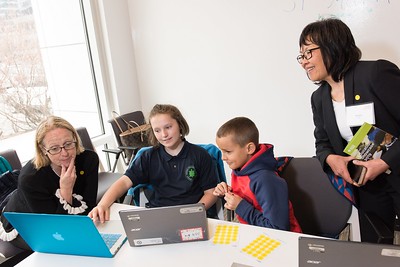 For the past 13 years EdVestors, a school improvement organization in Boston, has awarded its $100,000 Thomas W. Payzant School on the Move Prize to recognize rapidly improving schools that have made exemplary progress in advancing the academic achievement of all students.
Last week it was announced that the Charles Sumner Elementary School in Roslindale is a finalist for the prestigious EdVestors Prize. The other two schools are the Edward M. Kennedy Academy for Health Careers in Mission Hill and the F. Lyman Winship Elementary School in Brighton.
The winning school will be announced at a virtual ceremony on Wednesday, October 28 that will be streamed live from 3-4pm on Zoom. Other finalist schools will each receive $10,000 awards.
"I think being nominated for the School on the Move prize encourages the Sumner community to keep striving and achieving for all of our students," said Sumner Principal Meghan Welch. "We are thrilled to be recognized for our improvement efforts that required the brainpower and efforts of our whole community. Our teachers, paraprofessionals, cafeteria staff, parents, community partners, central office partners and more make the Sumner a special place. The School on the Move award truly recognizes what is working in our public schools and we are proud to share our story."
Welch said a few years back, the school decided it wanted to include all kids whether they made a bad choice at the moment or struggled with their learning. Historically, schools had excluded some kids for bad behavior or not exhausted all resources to serve the student in their current classroom.
"As one of the largest and most diverse elementary schools (550 students, sometimes 600 across 30 classrooms that include General Education, Sheltered English Instruction- Spanish, specialized Learning Disabled strand and Inclusion ), the Sumner stepped up and took an approach to know and reach all students," said Welch. "For instance, each week, students have 1 hour of social skills taught by a trained social worker. Our students concretely learn how to make friends, solve conflicts, assert themselves and use self-talk. In our upper grades, we find this class gives students a platform to talk about how they see the world or issues they are worried about like racism, violence, immigration law and beyond."
Welch said the Sumner teachers received training on how to reward students and de-escalate situations so students could return to learning.
"We place a heavy emphasis on what students are doing right and we tell them frequently how their actions benefit themselves or the community," she said. "Students of all ages get excited to receive our pom-poms which they can turn in for prizes! The pom-poms are a symbol to every Sumner student that you contributed, you made a good choice, you made your family proud by growing. Each of our 30 classrooms has a Settling Space where students can take a break or reset themselves. Each of our 30 classrooms has a Buddy Room or neighboring classroom where a student can take a break from their current classroom. This allows students to rebound quickly and get back to learning versus dwelling on the struggle or bad choice."
Lastly, Welch said one key part of the school's improvement is its faculty collaboration.
"We are not competitive with each other, we work together to solve problems and share resources," said Welch. "We have hired faculty who have a track record of success and who go above and beyond to reach each and every child."
No one will know which school will be awarded the $100,000 grand prize until the announcement is made live at the event next week.
"These three schools represent the critical work schools across the city are doing to improve educational outcomes for Boston children," said Marinell Rousmaniere, President and CEO of EdVestors. "Each of them has employed a variety of innovative strategies to meet the needs of their students from engaging, student-centered instructional practices to addressing the unique social emotional and academic challenges of new immigrant families. We recognize all of them for their work and look forward to announcing the winning school later this month."
Published on Jamaica Plain Gazette.