Announcements
/

Announcing EdVestors new President & CEO, Marinell Rousmaniere
Announcing EdVestors new President & CEO, Marinell Rousmaniere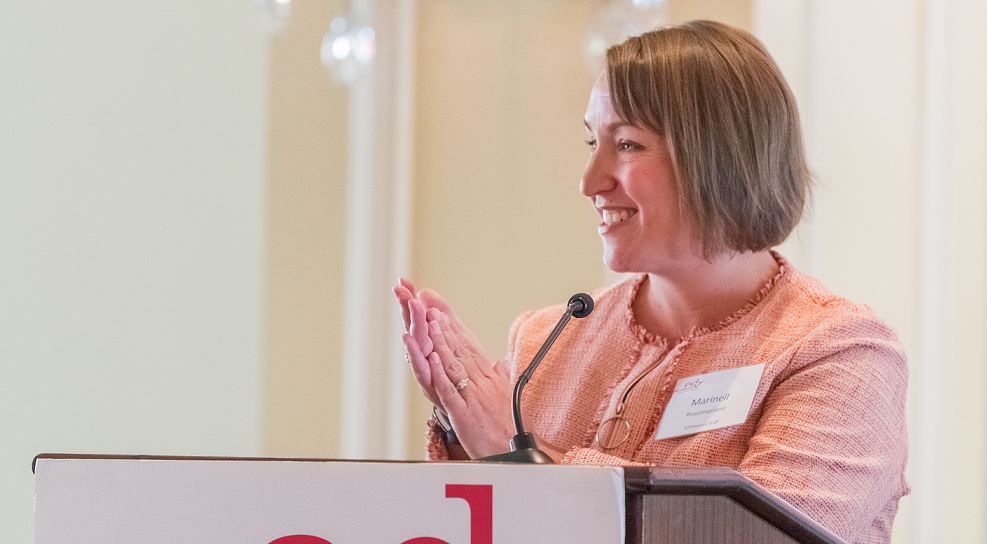 EdVestors Governing Board is delighted to announce Marinell Rousmaniere as our new President & CEO.
Marinell had been serving as EdVestors' interim leader since former President & CEO Laura Perille stepped down to become the Interim Superintendent of the Boston Public Schools in July 2018. Before being appointed Acting President & CEO, Marinell served as EdVestors' Senior Vice President for Strategic Initiatives where she oversaw the organization's key programs, communications, and policy work.
Marinell has been invaluable to EdVestors and its mission since she joined the organization nearly ten years ago. She led the organization's groundbreaking work to implement a partnership with the Boston Public School system to expand arts education. She has been instrumental in EdVestors' work to strengthen student math learning outcomes in the city and broaden career and technical education opportunities. Marinell brings terrific skills as well as a deep understanding of the organization and the city's educational landscape that will serve to further EdVestors' impact.
With over 20 years of experience in the education and youth development fields, Marinell is driven by a mission to increase opportunities for Boston's young people. Prior to joining EdVestors, she served as Executive Director of MYTOWN, a creative youth development organization connecting teens to Boston's diverse history. Marinell was also a senior staff member in Mayor Menino's first-in-the-nation initiative focused on out-of-school time.
I am humbled and privileged to lead EdVestors into its next chapter. EdVestors plays a valuable role as a grantmaker, implementation partner, and critical friend to public schools in our city. This important work, outstanding staff team, and amazing network of supporters and partners all fuel my excitement for what's to come. 
A graduate of Connecticut College, Marinell holds an MBA in public and nonprofit management from Boston University. She lives in Hyde Park with her husband and two children who attend Boston Public Schools.
EdVestors has been an important partner with public schools in Boston and the city's nonprofit sector to effect change at the school and system level. In addition to funding programs, EdVestors provides on-the-ground implementation support and expertise to help close opportunity and achievement gaps for young people in Boston. I know this will continue with Marinell's leadership.
EdVestors is thrilled to have Marinell's leadership through the next chapter.