Announcements
/

19th Annual Education Showcase
19th Annual Education Showcase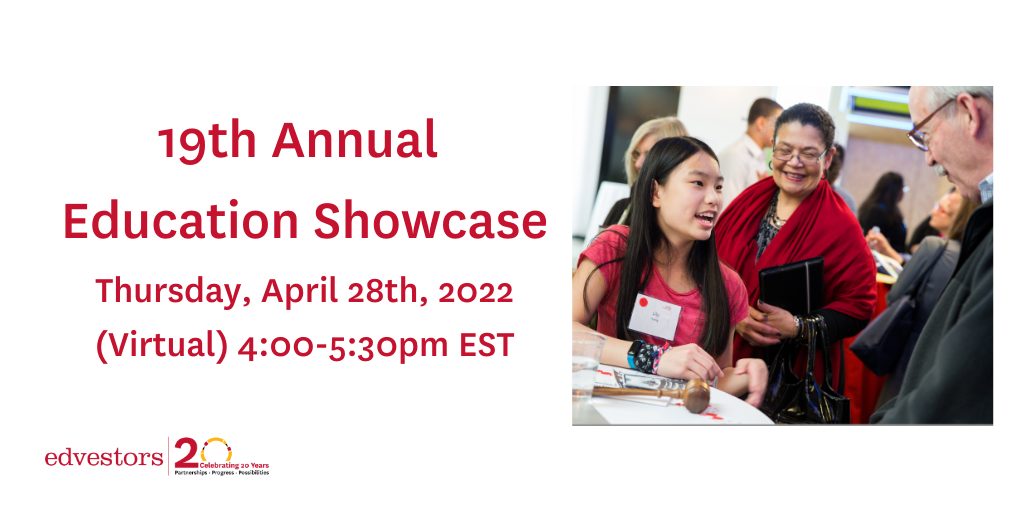 We are pleased to invite you to EdVestors' 19th Education Showcase on Thursday, April 28th from on from 4-5:30pm via Zoom.
The Showcase will spotlight Boston Public School educators, administrators, partners, and students — providing space to learn from their experiences, engage in reflection, and imagine for the future.
Register here.
Event Agenda
Welcome & Event Overview
Including Boston Schools Committee Chair, Jeri Robinson
Discussion with Jack Schneider and Jennifer Berkshire
Breakout Sessions
Closing & Thanks
Keynote Speakers
This year's Showcase will feature Jack Schneider and Jennifer Berkshire, co-hosts of the podcast Have You Heard, who will share their reflections on the state of public education and where we might go from here.
Jack Schneider is an Associate Professor in the School of Education at the University of Massachusetts Lowell. An award-winning scholar and teacher, his work explores the influence of history, culture, and rhetoric in education policy. The author of four books, he has explored why particular ideas gain policy traction, how public perceptions of schools take shape, why education reform so often fails, and how organizations can use data to empower stakeholders. He is a co-founder of the Massachusetts Consortium for Innovative Education Assessment, co-editor of History of Education Quarterly, and co-host of the education policy podcast Have You Heard. Dr. Schneider writes frequently in outlets like the Atlantic, the New York Times, and the Washington Post.
Jennifer Berkshire is the co-author of A Wolf at the Schoolhouse Door. She writes about education and politics for the Nation, the New Republic, the Baffler, and other publications. The creator and co-host of the education policy podcast Have You Heard, she teaches aspiring podcasters in the journalism program at Boston College and the Labor Studies program at UMass Amherst. Berkshire discovered her passion for storytelling while covering a series of bitter labor battles that wracked her native Midwest in the early 1990's. A licensed public school teacher, Berkshire lives in Gloucester, Massachusetts.
Breakout Sessions Speakers
Afterwards, breakout sessions will feature Boston Public Schools students, teachers, school leaders, district administrators, and community partners sharing their experiences from the last few years, the needs they're seeing in schools, and what they're optimistic about for the future of public education. Confirmed speakers are:
Bethany M. Allen, Director of Equitable Pathways in the Division of Equity, Strategy & Opportunity Gaps, Boston Public Schools
Kristen Almquist-Cevallos,Esq, Director of Early College and Career Pathways, Dearborn STEM Academy
Christina Balkaran, Instructional Math Coach, Madison Park Technical Vocational High School
Morgan Beckford, Chief Programming Officer, Community Music Center of Boston
Muadi Dibinga, Principal, Muadi B. Dibinga Unlimited
Wilmari Melo Dominguez, Student, Margarita Muniz Academy
Yozmin Gay-Draper, Assistant Superintendent, Office of Opportunity Gaps at Boston Public Schools
Benjamin Helfat, M.Ed., M.S.T., Head of School, Boston Adult Technical Academy
Catherine Killen, Assistant Director for Career Services, Boston Private Industry Council (PIC)
Antonio Martinez, Student, Boston Adult Technical Academy (BATA)
Ziane Roberts, Bloomberg Arts Internship Alumni Chair, EdVestors
Janamarie Sunkle, Instructional Math Coach, Mather Elementary School
Mariana Tobon Florez, Student, Boston Adult Technical Academy (BATA)
Dania Vazquez Ed.D., Head of School, Margarita Muniz Academy
EdVestors is committed to providing accessibility accommodations for all of our events. Please request disability or language accommodations in your registration at least two weeks prior to the event, or else we may not be able to fulfill them. For accessibility questions, please contact Shay McIntosh at mcintosh@edvestors.org.
Traducción al español disponible. Favor indicar si requiere interpretación al registrarse con dos semanas de antelación o contactar Shay McIntosh: mcintosh@edvestors.org.
Zoom auto-captioning will be available in the main meeting room.