Research & Insights
/

Ten Years of Improvement at East Boston High School
Ten Years of Improvement at East Boston High School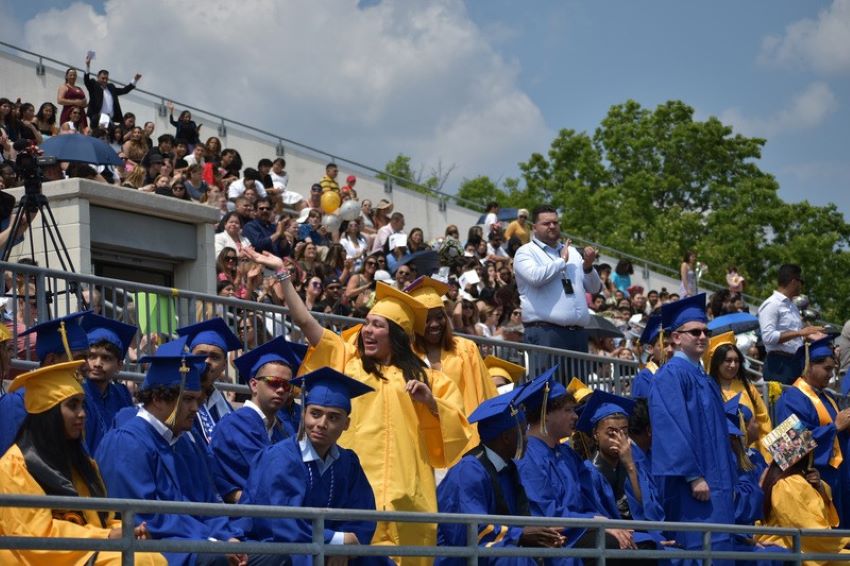 This year, EdVestors held an open call for the School on the Move Prize, seeking the stories of Boston Public Schools that are creating and continuously improving learning environments where all students thrive. Eight semifinalists have been selected to advance to the next round, and three finalists will be celebrated at the School on the Move Prize Ceremony on November 8. Regardless of the outcome, each semifinalist has a story that we can learn from.
Sandwiched between the transit hubs of Boston Harbor and Boston Logan International Airport, East Boston High School's 1,300 students can hear the planes overhead—they're called the Jets, after all. The school has long served the children of immigrants arriving on those ships and planes. 80% of current students are Latinx and 45% are English language learners, and the vast majority live in East Boston. Local community and pride are essential to this large traditional high school, where teachers are encouraged to plan field trips and cheer on their students from the bleachers.
Once on the brink of state takeover, East Boston High has spent the last decade improving outcomes for students. That starts with teachers. Ten years ago, a veteran educator observed that he had never seen a colleague teach before. Now, teachers observe at least 15 classrooms a year, exchanging ideas and feedback. In small groups, they collaborate to research and test potential improvements to instruction, earning graduate-level credit. 
East Boston High has changed policies and systems as well, striving to provide more equitable and accessible education. Students who need to make up credits can access in-house summer school, an evening program, or a Flexible Accelerated Competency-based Teamwork Program that offers an alternate path to graduation. The school also instituted a universal grading policy.
The work has paid off. In ten years, East Boston High has gone from a state ranking in the 3rd percentile and a graduation rate of 56% to the 26th percentile with a graduation rate of 94%. Attendance rose consistently, surpassing Boston's average despite the disruptions of the pandemic. In 2022, 10th graders showed high growth on the MCAS in both English and Math and multilingual students outperformed the state average for their subgroup. It's clear that East Boston High School is a school on the move.
Read about 2023 School on the Move semifinalist English High School here.