Research & Insights
/

Strengthening Biotechnology Programs through Collaboration - East Boston High School's Biotechnology work with Essex North Shore
Strengthening Biotechnology Programs through Collaboration - East Boston High School's Biotechnology work with Essex North Shore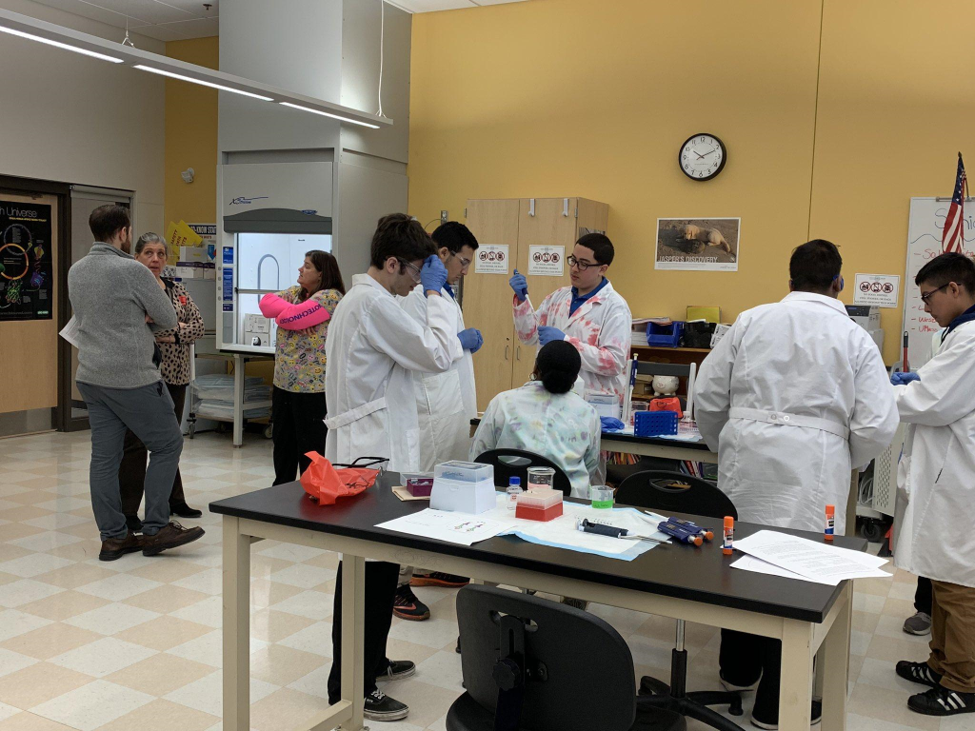 By Eliza Cassella and Amanda Dillingham
Over the past ten years there has been a significant shift in the landscape of education. Diverting from content heavy direct instruction to enhancing student agency through experiences and hands on learning--East Boston High School has been a pioneer in this transition. East Boston High School is focused on developing high quality programs that support real world authentic learning for our students. Teachers and students have together over the past few years with partners such as Amgen Biotechnology Experience, BioBuilder, Massachusetts Life Science Center, MassBioEd, Tufts University, Vertex Pharmaceuticals, EdVestors, and the Boston Public Schools Career Technical Education (CTE) department to build an innovative Biotechnology CTE Program that offers opportunities for students to engage in authentic curricula, attend field site visits at biotechnology companies and colleges, and apply for and obtain internships in Boston-area biotechnology companies leading to increased opportunities for students to have experiences in the Life Sciences Sector. "Collaboration and partnerships are invaluable and essential for growing programs for our students at East Boston High School" Science Director, Ms. Dillingham explains, "our partners have been key to building a sustainable biotechnology program."
With the support of EdVestors' Career Pathways planning grant, East Boston High School students and teachers were able to collaborate with Ms. O'Reilly and her Biotechnology vocational program at Essex North Shore Technical and Agricultural School. EBHS students, two teachers, Mr. Lepak and Ms. Puopolo, and  Ms. Dillingham spent a day immersed in the Biotechnology Experience at Essex Tech. Ms. O'Reilly and her Biotechnology students were gracious hosts, making us feel welcome and part of their Essex Tech community as soon as we stepped foot in the doors.
Upon arrival our hosts gave EBHS students a tour of the lab and equipment giving advice and suggestions on which equipment would work best for our program. They then engaged EBHS students in a micropipetting review and inquiry lab using an ELISA (enzyme-linked immunosorbent assay) technique to identify patient zero in a Zombie Virus scenario. During the lab, Ms. O'Reilly and EBHS teachers discussed curriculum design and implementation of new labs. Ms. O'Reilly has been an important collaborator with EBHS to develop a curriculum that closely matches the current Biotechnology CTE program at Essex Tech.
After the lab, we had a delicious gourmet lunch created and served by students in their Culinary Arts program. Student and staff were treated to a catered lunch including salad, pizza, and brownie sundaes. EBHS student Linnette said "I enjoyed doing the lab while connecting with students and finishing it off with great food!" It truly was such a great example of integrated learning from start to finish; challenging our minds through critical thinking and problem solving in the lab, to cultivating community through a shared meal together.
Both the students and teachers learned a great deal about how biotechnology programming looks like in a large Vocational School and plan to implement our new insights at East Boston High School in the coming school year. "I loved seeing our students interact with the students from Essex Tech. It was amazing to see our students work on an advanced lab and impress everyone. Working with other schools, teachers, and students helps me improve my classroom practices and make sure I am using current best teaching practices." EBHS Biotechnology teacher, Mr. Lepak reflects. We look forward to continued collaboration with Essex Tech and are so grateful for their support and guidance as we continue to build our Biotechnology Pathway at East Boston High School.
Eliza Cassella is the Director of Partnerships & CTE Pathways at East Boston High School. Amanda Dillingham is the Science Director at East Boston High School.
To learn more about East Boston High School's CTE Pathways, click here.