Practicing Advocacy Through Action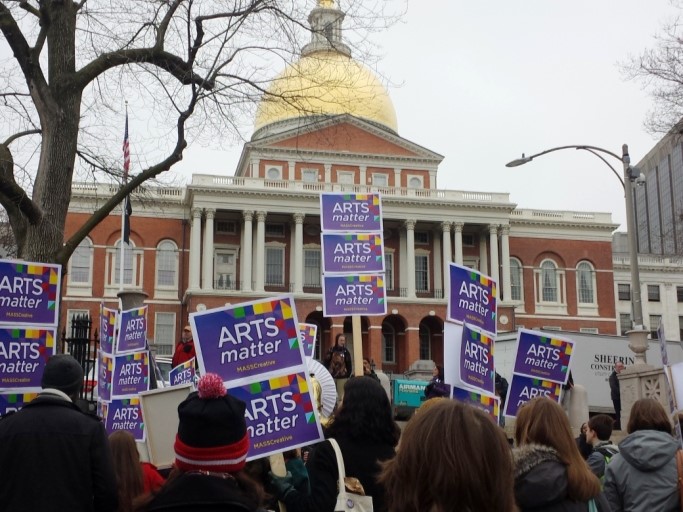 With the news of proposed deep cuts—or even elimination—of federal arts and culture funding, I participated in MASSCreative's Arts Matter Advocacy Day with a sense of urgency. As a member of the arts community, it was gratifying and inspiring to come together as a group to advocate for policy issues that I strongly believe in. But with the demands of our day jobs, how can we make time to advocate for the larger field? How do we incorporate advocacy into the work that we do every day?
At EdVestors, we demonstrate our belief in the value of arts education through our role as a lead partner of BPS Arts Expansion, an effort to ensure equitable access to quality arts education for all Boston Public School students. By working collaboratively with school leaders, teachers, arts partners, and funders to accomplish this goal, advocacy is an inherent part of our work. On the policy side, EdVestors is part of the Arts for All Coalition, which successfully advocated for inclusion of arts education in the state's new accountability plan.
Demonstrating an authentic commitment to the importance of arts education through our actions is advocacy, but we must also tell our stories more effectively—not just to each other, but to those who may not agree with us. This is one reason EdVestors facilitates the Youth Arts Impact Network, a peer learning community of over fifty youth arts organizations that meets to share evaluation knowledge; explore the development of evaluation tools; and discuss data analysis and strategies for communicating impact to multiple audiences. Connecting with each other around best practices ultimately strengthens our field and enables us to advocate more effectively.
One of EdVestors' core values is the transparent use of evidence to inform our work. Making sure we have sound information and data (both quantitative and qualitative) is a critical tool for advocacy. By collecting and sharing information about arts education opportunities in schools and by providing students and parents a platform to express how much they value arts education, we strengthen our message. These individuals are the most powerful advocates for the arts, and incorporating their voices into our daily work and advocacy is invaluable.
It is important to be aware of the many ways we can make the case for arts education. With the daily challenges we confront, it is easy to become frustrated and overwhelmed by thinking about advocacy. Making it an integral part of our work can be a solution.