Research & Insights
/

Looking Back and Looking Forward: Final Thoughts on the Bloomberg Arts Internship '23
Looking Back and Looking Forward: Final Thoughts on the Bloomberg Arts Internship '23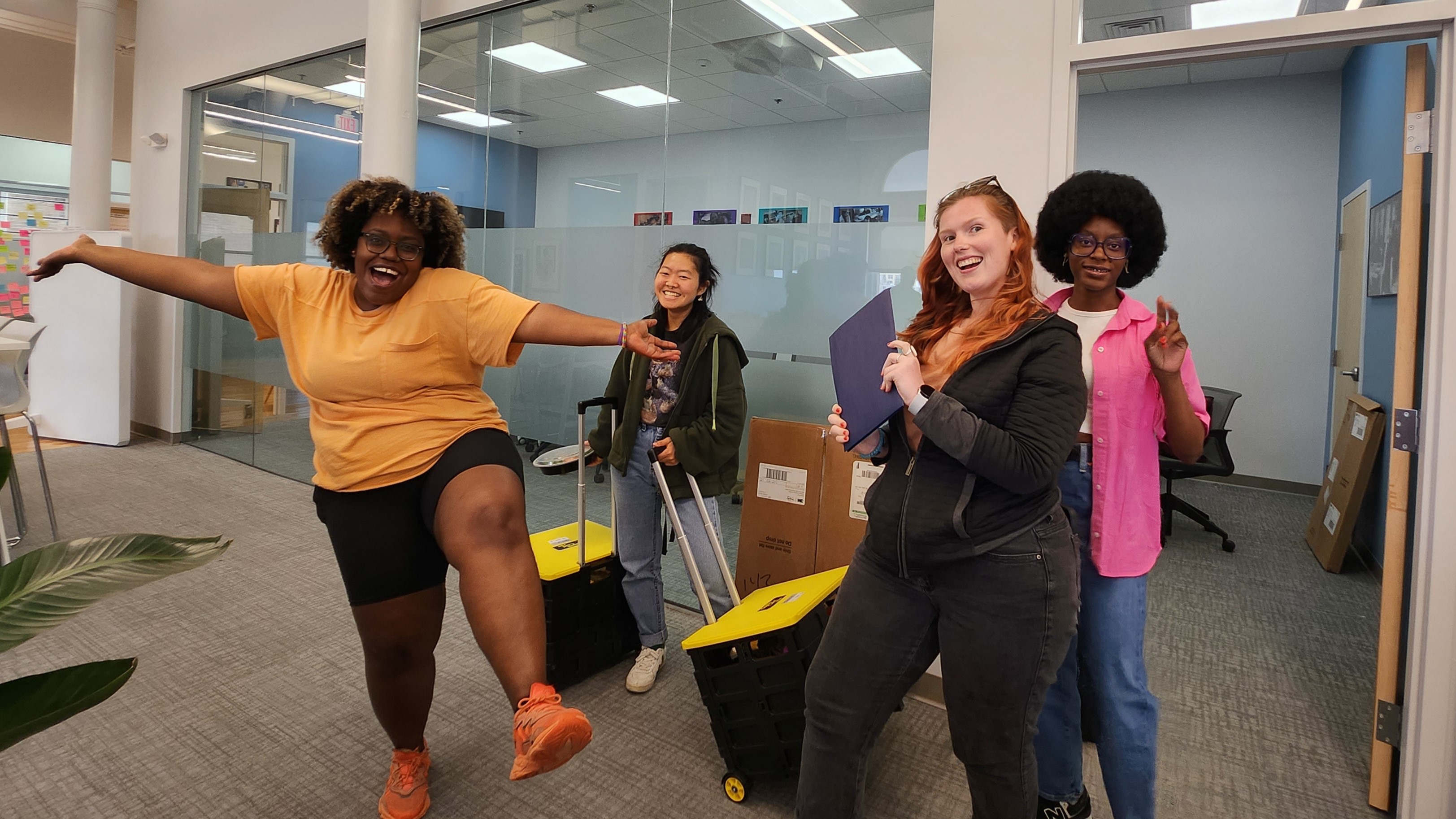 From left to right: Shanelle Villegas, Aya Sugiura, Joye Prince, and Lordorina Hercules
The success of the Bloomberg Arts Internship (BAI) program is dependent on a strong team that collaborates in planning and implementing the program from start to finish. The Program Assistant role is integral to the team and its work. They are responsible for direct service to the intern cohort planning and facilitating with care and strategy: community building, work-place readiness, and mentorship. 
This year, EdVestors hired 4 outstanding Program Assistants to support 48 BAI interns. Each of them offered a set of unique abilities and skill sets that enabled them to demonstrate leadership and to shine in their roles. This summer's BAI Program Assistants: Lordorina Hercules, Joye Prince, Aya Sugiura, & Shanelle Villegas share their experiences about how they learned so much from the interns and about themselves, and their futures in the creative sector.
What made you decide to join the BAI team as a program assistant?
Lordorina Hercules: My journey from being an intern (2019) to a two-time program assistant was a natural evolution of my commitment to the program's values and its potential to shape the lives of young individuals through arts education. Interning at BAI had a significant impact on my perspective and career aspirations. I was inspired to contribute to the program's success from a different vantage point after experiencing firsthand the transformative power of the program. 
Joye Prince: I thought it would be a great opportunity to work with teens and increase my skills as a facilitator while learning about the cultural sector in Boston. When I was in high school I had an internship at a local arts nonprofit that shaped the trajectory of my life and career. I have firsthand knowledge of how impactful early workforce opportunities can be; allowing students to see themselves in a particular field. I wanted to be part of facilitating that experience!  
Aya Sugiura: I enjoy working with students in an artistic and creative context! I had experience lesson planning for art classes, but BAI felt like a unique program that would challenge me to also think about mentoring and career opportunities in the arts. The program has lots of different components, and it's something that I would have been interested in when I was in high school.
Shanelle Villegas: I have been an educator in school and after-school programs for many years. Pre-pandemic, I was struggling with maintaining confidence in my teaching skills. And when the pandemic happened and education was disrupted, my mental health worsened by teaching in isolation. I was looking for something where I could still educate youth but could pivot my skills to a position that was more physically active and more team-oriented. So when this position came into my inbox, I felt that it was everything I was manifesting for myself!
Can you describe a moment where you felt fulfilled in your position as a BAI program assistant?
LH: Seeing all the interns at the Final Celebration! They were conversing with the guests, some of whom they had never met before, and sharing their summer experiences with them. I saw our efforts over the past eight weeks translated into tangible growth and empowerment for the interns.
JP: The Final Celebration was so fulfilling for me. It was amazing how much our community had grown and bonded in the previous weeks. It felt very fulfilling to see students present their worksite experiences, reflect on their learning, and celebrate the hard work they put in. 
AS: Watching them collaborate and really bring their best to the final projects felt great. Seeing our interns connect with each other in general was always so joyful and wonderful. Seeing that  carry over into the projects where they reflected on their work experience and their own evolution was inspiring. It made me feel good about the Program Assistant's shared vision for the projects.
SV: Final celebration and the days leading up to it were some of the best moments of my life. As an educator-turned-mentor, I was so delighted to witness the community that had been fostered and to see the creativity of young people pushed to the max. And job-wise, it completely validated the choice to pivot and I felt like I was finally in the right place for me. To be present for the full-arc that the interns experienced - from being on their phones in silence on the first day, to everyone singing, crying, and laughing together on the last day - brought so much joy to my life.  
What did you learn from the interns? What do you hope they learned from you?
LH: From the interns I learned the power of fresh perspectives and the significance of adapting to new ways of thinking. They greatly inspired me with their energy, curiosity, and openness to trying new things. As a Program Assistant, I hoped to impart the value of mentorship, commitment, and the importance of lifelong learning. I aimed to demonstrate that a career in the arts involves not only creativity but also strategic thinking, adaptability, and a strong work ethic. In the end, I want interns to understand that their passion for the arts could be channeled into meaningful and sustainable careers and that they have the ability to make a positive impact on the world via their artistic pursuits.
JP: Part of what I love about working with teens is the way they remind me to never take myself too seriously, and my cohort this summer certainly did a great job of reminding me of that! They teased me and played pranks on me, and overall made me feel like part of a family. The interns this summer also taught me that there are no excuses for not pursuing your art and your passion right now. I was inspired by the way so many of them were painting, making music, filming videos, and starting businesses despite everything else they had on their plates. The interns this summer are talented, but more importantly, they are tenacious.
AS: I was so inspired by the interns' visions for themselves and their futures, and all that they were already accomplishing and working on. It reminded me of the ambition and the confidence that I feel I have lost a bit of over the years, and it makes me so happy to see them actively working towards their dreams, especially in the creative field. I definitely relearned some self-confidence and the power of believing in yourself in community from my time with them. I hope they learned that they always have people on their team.
SV: The interns reiterated the power of community for me. For my own personal reasons, I really needed a community this summer more than ever in my life. Whenever I would see the interns, all the stressors or sadness going on for me would completely vanish because they helped me remain present and joyous. And I'm pretty sure, through my silliness, games, and social butterfly personality that the interns also learned from me the power of community. They have someone in their corner who values their thoughts, voice and opinions and occasionally brings out the silly in them.   
How has this experience contributed to, supported, or informed your career journey in the creative sector?
LH: My role as a program assistant has enhanced my professional skill set and strengthened my belief in the power of the arts to inspire, educate, and create positive change. My professional network has grown as a result of working closely with arts organizations, professionals, and other Program Assistants. These connections have created chances for mentoring, collaboration, and professional and personal growth. 
JP: This experience has solidified my desire to work with youth outside of the school system and it has helped me to see how impactful a summer program like this can be. I gained a lot from being in proximity to the tight-knit network of arts organizations and cultural workers in Boston and seeing so many opportunities for the kind of work I am interested in doing. 
AS: I feel like I got to experience the program as if I was an intern myself as well. I especially loved the arts and culture days and getting to meet working artists in Boston and witness their work, their community, and their livelihood. I am feeling a push to truly commit to my aspirations of making a living making art, and taking next steps in that direction even knowing that it is not easy, nor does it happen overnight.
SV: This experience helped me to realize the type of day jobs I want as an early-career artist and it has opened my eyes to the ways in which artists can make a sustainable living while taking care of their mental health. 
For Lordorina: As alum and now two-time program assistant, how has the BAI program changed? What do you hope it will offer students in the future?
Looking to the future, I am hopeful that the BAI program will continue to provide interns with access to resources, mentorship, and support long after they have completed the program. I hope that the connections the interns make with each other and with the staff deepen and that the interns, now alumni, take advantage of the supportive network they are now a part of.