Research & Insights
/

Getting a taste of Boston's innovation economy: sixth graders apply math skills to create and pitch their ideas for new LEGO® products
Getting a taste of Boston's innovation economy: sixth graders apply math skills to create and pitch their ideas for new LEGO® products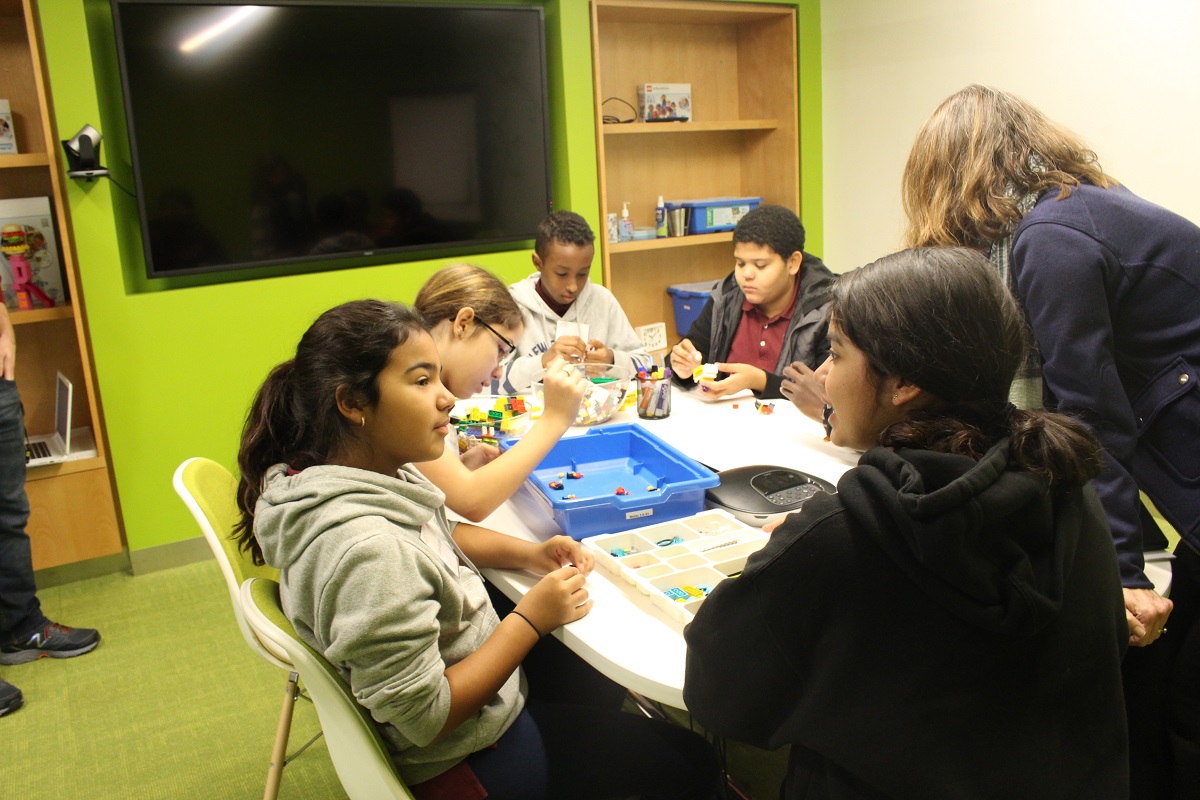 By Karen Levin
Last week during Massachusetts STEM week, 23 sixth graders from Gardner Pilot Academy were invited to experience a hands-on, immersive STEM day, generously hosted by LEGO® Education. There was much fun and focus as teams of students designed "the next new and exciting" spinning top ahead of the holiday season! Students applied tools from their math curriculum, discussing market research, sales forecasts, and calculating unit costs to assemble business plans to pitch their ideas to a panel of judges. Volunteers from LEGO Education and the Zeroing in on Math Advisory Board joined EdVestors' staff to provide mentorship and expertise to the students as they worked through the project.
"I really liked the amount of teamwork we did and how much math we did!"
Connecting math to the real world
As an official event of Massachusetts STEM Week, KICKStart Ma+h was uniquely structured to give students a real-world view into what a career in STEM entails and encourage students to consider pursuing a STEM-oriented field.
KICKStart Ma+h is part of our Zeroing in on Math (ZioM) initiative which builds math content knowledge, deepens understanding of grade-level standards, and expands student-centered pedagogical skills. Through partnership with local companies and organizations, KICKStart Ma+h provides students with real-world applications of math, illustrates the opportunities of math-based careers, and builds a citywide community of math advocates.
The results of a post-event survey found most students said they were either likely or very likely to pursue a career using math.
"This has been the best school day ever!"
And the award goes to…
The panel of judges deliberated, and students waited with growing anticipation. Then, results at last!
Students cheered with excitement and encouragement for each other as teams were recognized for…
Best Pitch:  Team Squirt with their spin-launcher that was priced perfectly to generate parent interest.
Most Profitable Idea: Team Bruce with Hulk Tornado, a low-cost production spinner that garnered a premium price tag.
Most Creative Design: Team Dory with the Halloween-themed Pump-Spin, a great alternative to candy.
Most Interesting Challenge to Solve: Team Nemo with a unicorn-themed top that was compact, easy to build and spun a long time.
"This was a mutually beneficial experience; seeing the students work with each other and the product to solve the challenge was exciting."
Sparking the curiosity of creative minds
Christine Beggan, a 6th Grade Learning Specialist, at Gardner Pilot Academy shared this after the event:
The experience at LEGO Education was incredible! It was inspiring to students, their families, and Gardner Pilot Academy staff that we had the opportunity to visit the local office of a company so central to families right here in Boston. We are fortunate to live in a city with a wealth of opportunities to learn in real-world settings.
At LEGO Education's state-of-the-art facility, students collaborated in small teams to work through the entire toy design process. Students were engaged, excited, and inquisitive throughout the entire process, and applied math skills to a real-world problem. On the bus ride back to school, when asked who might want to work at LEGO someday, over half the class raised their hands.
Thank you to LEGO Education and EdVestors for this incredible opportunity!
Karen Levin is the Director of Zeroing in on Math at EdVestors.