Research & Insights
/

EdVestors Seed Fund 2018: Growing Active and Engaged Communities
EdVestors Seed Fund 2018: Growing Active and Engaged Communities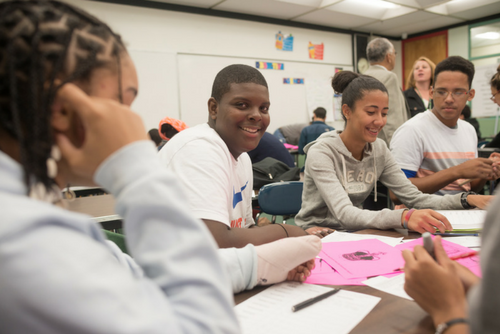 By Alison Stevens
It is abundantly clear that young people are emerging as powerful players in our civic discourse and our democracy. The initiatives in this year's School Solutions Seed Fund cohort are preparing Boston's students to be active and engaged denizens of their communities by building on students' natural creativity, passions, and desire to learn.
The 2018 Seed Fund cohort is engaging students in a variety of ways: connecting classroom learning to real-world issues, and honoring the assets of students' diverse backgrounds and identities. Students in these schools are finding their voices and discovering their own agency as creative problem solvers.
Engaging Young People in Solving Real-World Problems
Three initiatives in this year's cohort of grant recipients are exploring project-based learning opportunities within their schools and classrooms, where students have the opportunity to design their own solutions to real-world challenges. At Excel High School in South Boston - one of three Boston schools implementing the Linked Learning approach to create career and technical education pathways - teachers are building a business technology pathway to prepare students with technical certifications and soft skills to be successful in a variety of business and entrepreneurial fields. To ensure all students have access to the benefits of \[project-based learning, special education and English learner teachers are participating in externships at local businesses to integrate relevant work skills and curricular units into their classes and student supports.
At the Donald McKay K-8 School in East Boston, 6th grade students and math and science teachers are traveling weekly to the North Bennet Street School in the North End to tackle a variety of woodworking projects. While the students try their hands with chisels and sandpaper, teachers are learning how to use these hands-on experiences to help students build their math skills, from geometry to fractions.
Students at the John F. Kennedy STEM Innovation School in Jamaica Plain are applying creativity, knowledge, and a scientific approach to tackle diverse challenges. Teachers are working with Novel Engineering at Tufts University to integrate STEM (Science, Technology, Engineering, and Math) throughout their curriculum. Elementary students take the time to analyze the plight faced by characters in the books they are reading and then design - with found materials and objects - three-dimensional machines or tools to help the characters tackle challenges.
Building Civic Engagement
Two initiatives are focused on preparing young people to be active and engaged civic participants. At New Mission High School, which recently added its first-ever 7th grade class, students are exploring social activism through both new and traditional media. During bi-weekly Advisory periods, students research current events, conduct interviews, develop positions, and create online content. At City on a Hill Public Charter School - Circuit Street, students, with the guidance of their teachers, are learning to resolve conflicts and understand the impact of their decisions through the Restorative Practice approach.
Valuing Culture and Identity as Assets
Recognizing the value of diverse backgrounds and perspectives allows schools to build on students' and families own strengths and assets, and develop respect for differences. At the Mattapan Early Education School (MEES), the newly launched Haitian Creole dual language program is educating native Haitian Creole speakers alongside English-speaking peers for whom Haitian Creole is a way to connect with their family members and culture. Students are becoming bilingual, biliterate, and bicultural. They are learning to look at language and culture through multiple perspectives, skills which are vital to a healthy democracy and understanding of others.
Students and faculty at five Boston high schools - Another Course to College in Hyde Park, Boston Green Academy in Brighton, Boston International & Newcomers Academy in Dorchester, Charlestown High, and New Mission High School in Hyde Park are working together to create school environments that are inclusive and supportive to LGBTQ+ students. With the support of the BPS Office of Safe and Welcoming Schools teachers and Gender-Sexuality Alliance (GSA) advisors are receiving professional development around incorporating LGBTQ+ representation and content into course curricula, and LGBTQ+ students and allies are creating opportunities for leadership and connection across schools.
Across these initiatives and others in this year's School Solutions Seed Fund cohort, young people are learning to be leaders and problem-solvers, active civic participants and agents of change.
Please join us on April 10th, 2018 at this year's Urban Education Showcase (4-6pm, District Hall in the Seaport District) to learn more about all of the initiatives in this year's School Solutions Seed Fund cohort, and hear how Boston's educators are growing our next generation of engaged contributors to society.