Research & Insights
/

Designing Virtual Internships in the Creative Sector: Final Thoughts
Designing Virtual Internships in the Creative Sector: Final Thoughts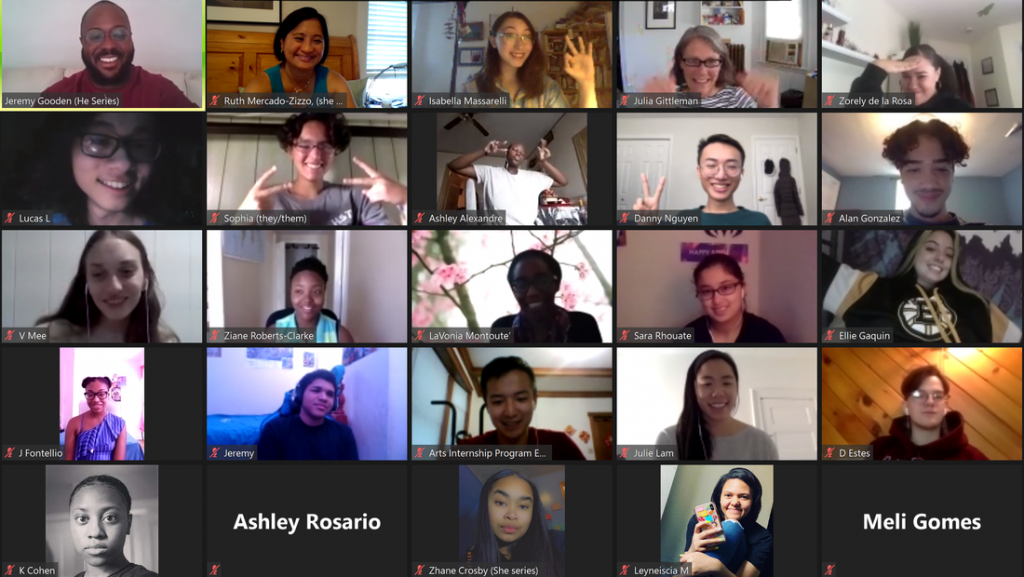 This blog is part of a series on Designing Virtual Internships in the Creative Sector drawing from experiences managing the Bloomberg Arts Internship program in Boston through sharing the learnings and key takeaways for effective creative youth development and employment models.
The challenges of life during a pandemic and future implementation
Living  during a pandemic took a toll on everyone connected to the BAI program this summer and the toll felt by the interns was especially challenging. For three students the circumstances of the pandemic were too much to balance with the requirements of the internship and they made the decision to leave the program. In assessing these cases, several observations came to the surface.
Engaging with the interns' families is critical. Especially in a remote model, families and caregivers are essential sources of support and can assist the interns in prioritizing and navigating their work experiences and personal responsibilities.
Even when interns had to make hard decisions about leaving the program, interns learned important career lessons in professional communication around difficult conversations and follow up.
Another learning was that remote experiences can offer a wealth of quality opportunities, however there are still times when in-person connections are both helpful and more impactful. From a program design standpoint, it is not simply one or the other (remote versus in-person) that defines a successful program design. Based on this observation the BAI team is preparing for a hybrid model in 2021 which will allow for the flexibility and maximization of key program elements to be implemented with impact and safety in mind. 
 The lessons learned from the Boston BAI summer of 2020 offer insight into how a remote summer employment program can engage and support high school interns. Even after the summer ended the cohort of youth remain connected to one another and meet for informal "hang-out" sessions online. The Alumni Advisory Council, comprised of 2019 and 2020 BAI program alums, leads and provides peer support through these gatherings. 
As the Boston BAI program staff plan for the 2021 summer, there are successful program elements and experiences that can inform key aspects of the program model and are applicable for future summer internship program design regardless of whether the program is in-person or remote. The importance of the right partners, accessing quality adult mentors, creating opportunities for interns to develop transferable skills and emphasizing the interns' identities as artists and creators are all learnings that will assist in creating a strong program model in the future.
While the COVID-19 pandemic continues to impact our community, the staff remain both vigilant to the safety of program participants and partners while remaining open to the possibility of greater in-person program opportunities in 2021. 

For more information about the BAI Boston program, please click here.