Research & Insights
/

Celebrating and Deepening Arts Experiences
Celebrating and Deepening Arts Experiences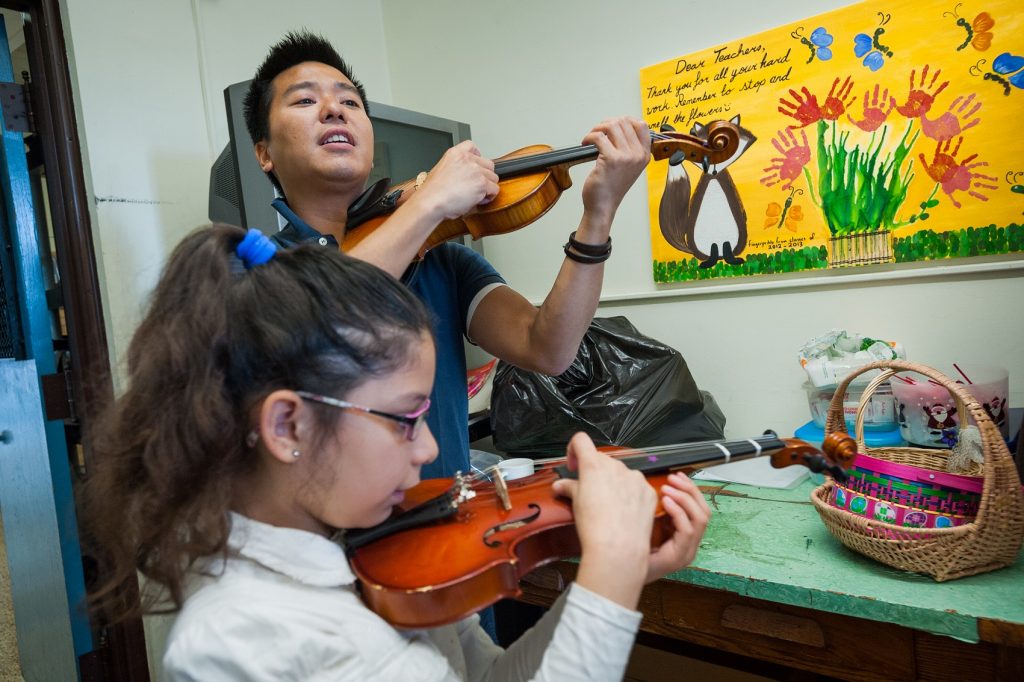 By Derek Lin
October is National Arts and Humanities Month, a recognition honoring the founding of the National Endowment for the Arts. The month-long celebration emphasizes the participation in and promotion of the arts across the U.S. In addition to showing support for the arts, this month reminds us to reflect on the impact arts and humanities has had on our lives and their ability to draw us closer together to form a stronger community.
As we enter the 10th year of BPS Arts Expansion, we want to share some of the triumphs and breakthroughs the initiative's grantees have shared with us.
Revealing the confidence of the inner artist
"The music program pushes me to do my best. I just feel better about myself, I feel confident about myself."
One of the most common and inspiring anecdotes we hear is the power of the arts in providing a platform for students to express who they truly are. Students who might find it difficult to navigate the traditional classroom have a space to "draw out their natural talents" with the arts.
"With music, she did really well. This gave her success in school, something she hadn't experienced before, and it really boosted her confidence."
The arts give teachers and peers a chance to see students in a whole different light. They are offered an opportunity to flourish and express themselves in ways that build confidence that can extend to other aspects of their lives.
Art invites people to share; it creates a common understanding
"[It is inspiring to see the] level of pride young people have when given the opportunity to share their art with their parents, their teachers, and friends in the community – they are intensely proud and happy."
"The music class was the vehicle of normalization and support in the inclusion classroom. It allowed him to be himself but also connect to the group."
Arts programming invites involvement and provides an outlet to share. It fosters an inclusive environment that values the participation of both the performer and the audience. The exchange of art forms a unique bond.
"Dance is a common language. No matter the language differences, or life experiences, everyone can participate in dance – it removes barriers."
For newcomer students who are English Language Learners, especially Students with Limited or Interrupted Formal Education, feeling comfortable in a foreign school environment can be difficult. Arts education can build bridges across barriers of understanding, Students can work and communicate together through their art.
The arts offer a window into the culture and world of the individual. Through arts education, students can share a very intimate part of themselves with their peers, teachers, and community.
BPS Arts Expansion Arts Encore Fund
This school year, BPS Arts Expansion entered Phase 4 (2018-2021) of implementation. EdVestors, in collaboration with our partners, will continue to drive the initiative as it has done since the beginning. Our goals for Phase 4 are to continue building systems to sustain a high level of arts education long into the future by providing external accountability for Boston's continued progress toward the shared goals of BPS Arts Expansion.
To date we have raised 84% of our $3 million goal. We need to raise the remaining funds by June 2020 to sustain and expand arts education in our schools. With additional funding, we will be able to ensure:
Robust grantmaking for schools and arts partners across Boston
100% of BPS preK-8 students have access to weekly arts education
80% of elementary and middle school students receive twice-weekly, year-long arts by 2021
100% of BPS graduates meet the MassCore graduation requirement for arts by 2021
This support will bolster BPS Arts Expansion's grantmaking by providing funding for schools and youth arts organizations across the city that can be the spark that inspires and positively impacts the lives of all our students.