Announcements
/

Make Your Contribution Count
Make Your Contribution Count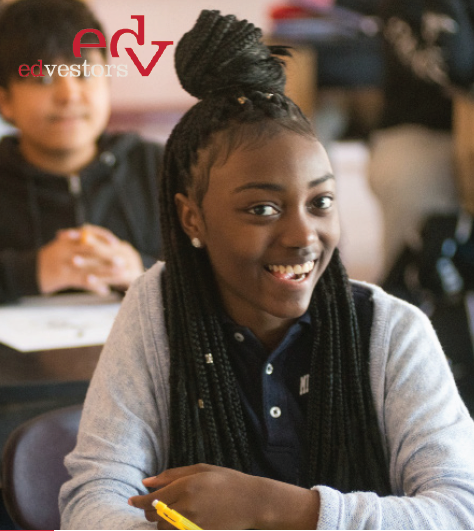 In the spirit of the season, I want to express my deep gratitude for your support of EdVestors and your continued commitment to driving change in urban schools.
EdVestors' work is all about collaborating: working together to catalyze change and deliver improved outcomes for Boston students. After a year marked by division—whether around education debates in Massachusetts or on the national political stage—it is critical that we lead the way forward here in Boston.
2017 has demonstrated that collective action at the local level is needed now more than ever. With your generous help, we have expanded and enriched our programmatic and system-wide school improvement work. This includes both long-running strategies, such as our signature School on the Move Prize and School Solutions Seed Fund, as well as our newest strategic initiatives, which focus on improving middle grades math education and expanding career and technical education pathways in Boston high schools.
Ours is an ambitious agenda, and there is still much work to do. In 2018 we will launch Phase IV of BPS Arts Expansion, take Zeroing in on Math to scale, and ramp up our school- and district-level career and technical education work.
We must find a path forward to ensure ALL our students are supported and given the tools to achieve their greatest potential. With your continued guidance and help we can reach this goal.
As our thanks for your generous support, we are giving away a pair of round trip jetBlue tickets to anywhere in the United States.* Your gift of $100 or more will make you eligible to win this exciting raffle.
Please make your year-end gift to EdVestors today and build a brighter future for our students.
Wishing you a happy and healthy holiday season! My sincerest thanks,
Laura Perille
President & CEO