Announcements
/

Creating and Sustaining School Arts Partnerships
Creating and Sustaining School Arts Partnerships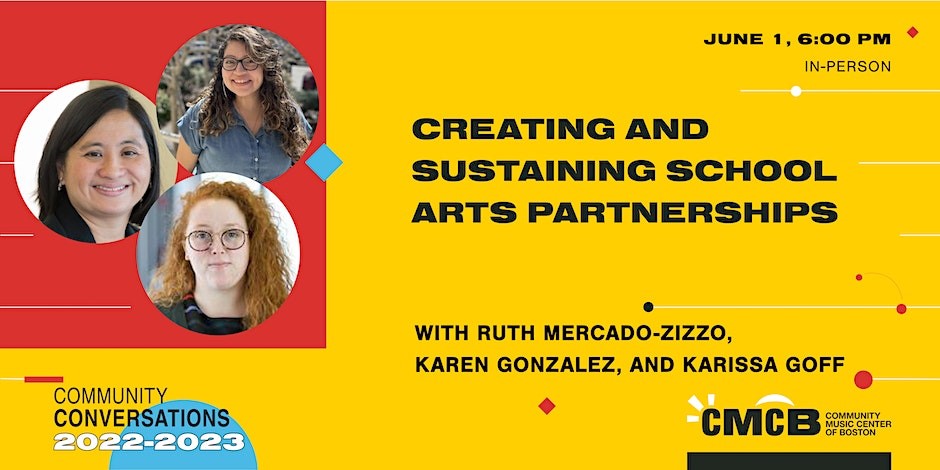 Community Music Center of Boston Executive Director, Lecolion Washington, lead a lively panel discussion centered around equitable relationships between nonprofit arts organizations, schools, and philanthropy.
They were joined by local leaders from Boston Public Schools for a discussion about planning and sustaining thriving school arts partnerships.
Watch the full recording here.
Ruth Mercado-Zizzo from EdVestors
Ruth Mercado-Zizzo is the Vice President of Programs and Equity at Edvestors. With her MFA in Theatre from Arizona State University and BS In Economics from The Wharton School of the University of Pennsylvania, she now facilitates ensuring overall internal and organizational programmatic efforts incorporate an explicit and specific focus on advancing racial equity, including building an inclusive and equitable organizational culture and community. She is also responsible for overseeing the Racial Equity Seed Fund, the Bloomberg Arts Internship program, and all aspects of BPS Arts Expansion.
Karen Gonzalez from the Joseph J Hurley School
Karen Gonzalez is the Director of School Culture and Climate at the Joseph J Hurley K-8 School. With her BA in Social Psychology and MA in Applied Sociology from UMass Boston, she is determined to work in partnership with students from all backgrounds to create communities in which they are empowered to chase their passions. Karen aligns social-emotional learning and behavioral intervention systems to create a positive learning environment and school culture for the Hurley School community.
Karissa Goff from Boston Public Schools
Karissa is the Director of Partnerships at the Boston Public Schools. Right now, that means working with our schools and community partners to ensure that we're collaborating in ways that'll best serve our students' needs. She works with schools to determine what partnerships will be the best fit for their students and their school's mission and vision. For partners, it means thinking critically about how services they offer will benefit students, especially those who are members of historically excluded communities.
She's been at BPS for five and a half years, after completing a Masters in Public Administration at Suffolk University. She studied psychology at Appalachian State University in Boone, NC where her passion for community engagement was born. She's particularly passionate about community engagement and community partnerships as a workforce development mechanism.