Overview
Each fall, EdVestors celebrates three of Boston's most improving schools and recognizes the winner of the $100,000 School on the Move Prize, shining a light on schools, leaders, and teachers who significantly improve student outcomes and continuously work to create a learning environment where all students thrive.
The 16th Annual School on the Move Prize Ceremony will take place on the morning of Wednesday, October 27th in front of Boston's business, education, civic, and philanthropic leaders.  Like many aspects of our lives over the past year, the 2021 Prize will be different in a few ways. We'll be spotlighting eligible schools from previous years, with a special focus on lessons learned from remote and hybrid learning and strategies for reimagining learning in the coming years. The hybrid event will be hosted at GBH Studios in Brighton on Wednesday, October 27th from 8-10am.
We would welcome your presence at the event if that is feasible. Based on the guidelines from GBH, guests will need to wear a mask, be vaccinated and socially distanced. Please indicate in the registration form if you plan to attend in person. Seats are on a first come and first serve basis.
Online access details will be sent to registrants closer to the event.
In-person capacity to be determined in the coming weeks according to public health guidelines.
Sponsorship
Learn more about Sponsorship opportunities here (link to sponsorship package, attached) or by contacting Senior Vice President for External Relations, Anuradha Desai at desai@edvestors.org or 617-585-5743. Thank you to our 2021 School on the Move sponsors.
2021 Host Committee
The School on the Move Host Committee is the external event planning committee, consisting of EdVestors supporters who volunteer their time and expertise to help make our annual School on the Move Prize ceremony and breakfast a success. Thank you to our 2021 Host Committee members:
Jean-Phillip Brignol, EdVestors Governing Board
James Davie, Brown Advisory
Kristopher Horn, Rockland Trust
Amy Iseppi, DTCC
Jennifer Larson Joyce, Fiduciary Trust
Francisco Marriott, EdVestors
Christine McGoldrick, BerryDunn
Faith Parker, EdVestors Governing Board
Sonja Plesset, Plymouth Rock Assurance Corporation
Adrienne Zak, State Street Corporation
We are grateful to our generous supporters of this year's celebration. This list is in formation.
Please consider sponsoring this event by contacting Anuradha Desai.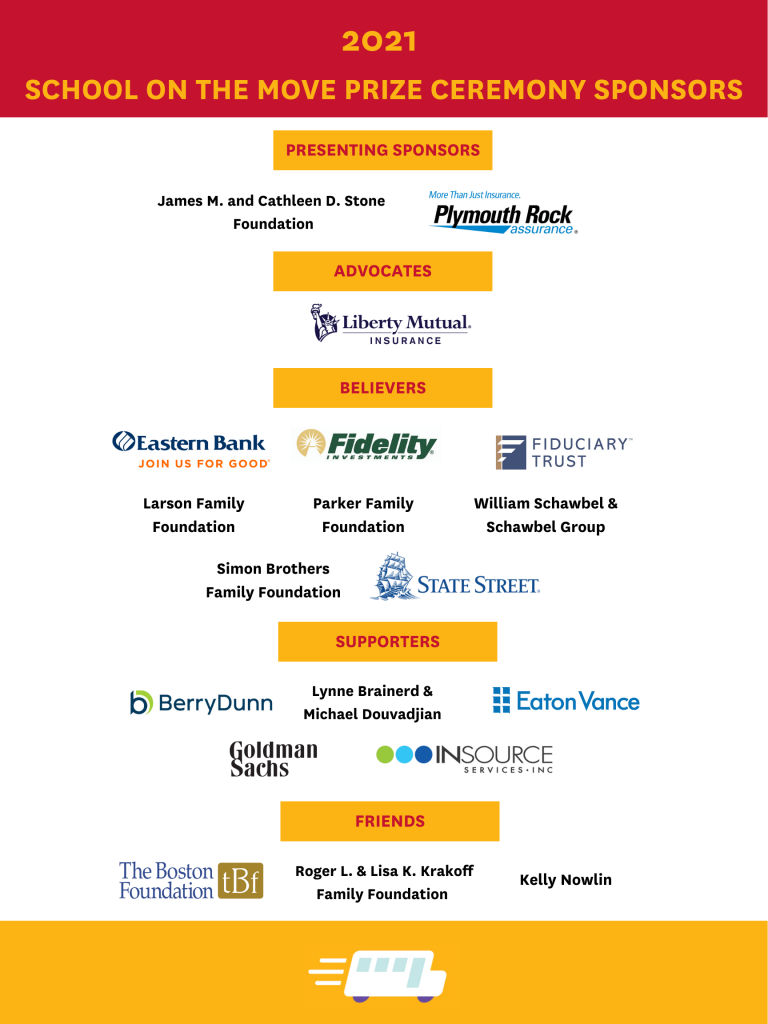 Watch last year's School on the Move event!