Neighborhood: Roslindale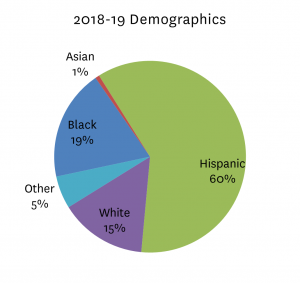 Grade Levels:  K1-5
Number of students: 530
Principal: Meghan Welch, since 2018
The Sumner, one of Boston's larger elementary schools, is located in Roslindale and serves 530 students. Half of the population is classified as English Language Learners and their Special Education population has diversified over the last 10 years. The Sumner houses several programs including a sheltered English immersion strand, sub-separate Learning Disabled program, as well as inclusion classrooms. They credit their improvement to deeply and authentically knowing their students beyond academics.
Key Improvement Strategies:
Social Emotional Learning: Sumner teachers have adopted the ideology of supporting students holistically. They prioritize explicit teaching of social and emotional learning and support the non-academic needs (mental health, food, housing, trauma) of their students.
Building Adult Culture: The Sumner's core strategy for improvement is to build a team of adults who grow together, help one another, and take initiative to lead the school together. This is based on the belief that they can reach all learners with a powerful adult culture. Structures are in place to support this strategy include grade-level teams and distributive leadership through the Instructional Leadership Team (ILT).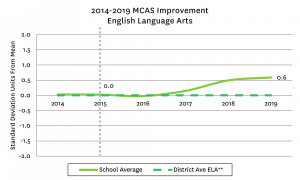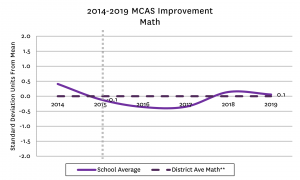 *improvement is measured in the change in standard deviations from the mean (SD units) between 2015 and 2019, compared to schools with similar grade levels