Neighborhood: Fenway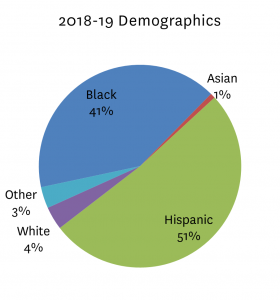 Grade Levels: 9-12
Number of students: 388
Head of School: Dr. Caren S. Walker Gregory, since 2007
Edward M. Kennedy Academy for Health Careers (EMK) is a college-preparatory and vocational high school for students exploring careers in the health professions and related fields. The school is a partnership of the Boston Public Schools and the Center for Community Health Education Research and Service (CCHERS) at Northeastern University. They attribute their success to the many changes made to revamp the school culture to ensure students and teachers feel supported and challenged.
Key Improvement Strategies:
Leadership Development: To ensure that EMK staff members have what they need to provide the best possible academic and social-emotional experience for students, EMK developed strong leadership roles for faculty and staff in an expanded Shared Leadership Team, including Instructional Coaches, establishing deep engagement and a strong commitment to school-wide improvement efforts.
Academic School Culture: EMK expanded career-focused pathways and strengthened its college-readiness-for-all curriculum to maintain focus on opportunity beyond high school. For example, EMK has made significant investments to increase participation in AP course offerings, with strong commitments to Pre-AP and AP professional development for its faculty.
Student Supports: Recognizing that nearly all EMK students are high-need students, the school operates with a case-management approach, leveraging strong academic interventions and deep social and emotional supports to reach every student.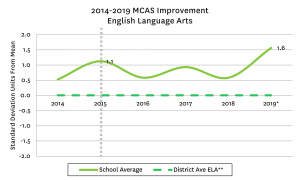 *improvement is measured in the change in standard deviations from the mean (SD units) between 2015 and 2019, compared to schools with similar grade levels